Virtual Artsmark Celebration Event
15 November 2022
Artsmark Celebration Event - Origami Rosette Making
To celebrate all their hard work on their Artsmark journeys, artist Pui Lee led a hands-on session where participants from Artsmark centres created their own Origami rosette.
Here's what Pui Lee had to say about Artsmark and the event:
"The Artsmark Award is the only creative quality standard for schools and education settings, accredited by Arts Council England. It was so incredibly inspiring to hear all of the success stories of each school's creative journeys in the presentations at the beginning of the event - a big well done to all! I definitely think that we should all be bringing the arts and creativity back to the heart of learning - and especially in schools!
This summer, Culture Bridge North East approached me to be involved with their Virtual Celebratory Event for teachers of schools who had successfully achieved their Artsmark Award; and this commission led to me designing an exclusive Origami rosette award, which all e-attending teachers could hand-make during the session, as a special reward for all of their hard work on their Artsmark journeys.
I thought that this would be a lovely creative way of celebrating their commitment to arts and cultural education for children and young people, whilst giving them that time and space to be mindful and reflect on their achievements so far! It was a lot of fun to teach the activity at the virtual event and I was able to talk about the origins and practice of this exciting artform of Origami. Everyone was beaming with pride with their finished hand-made rosettes at the end of the workshop!"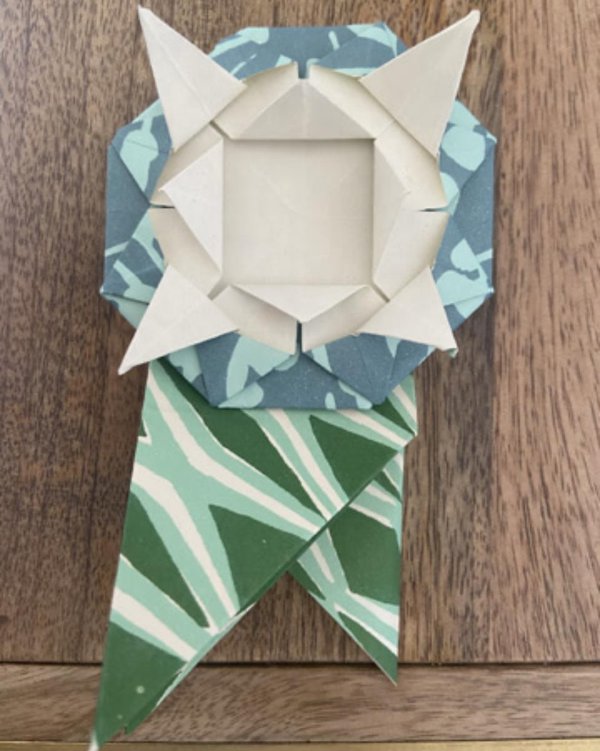 One of the final products!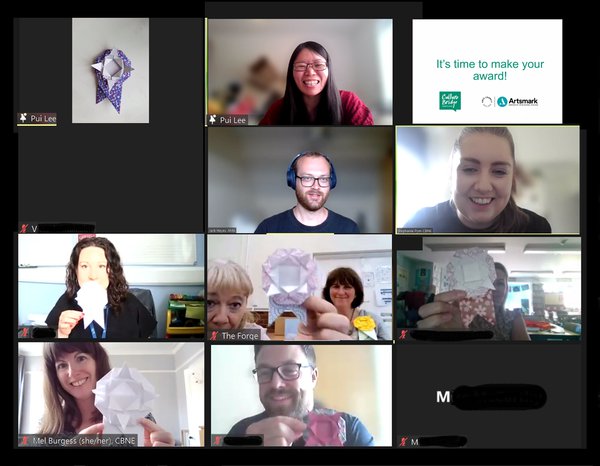 Everyone showing off their creations