BLOG: #Secondariescreate - How Priory Woods allows secondary school students to embrace their creativity.
29 January 2019
BLOG: #Secondariescreate - How Priory Woods allows secondary school students to embrace their creativity.
Priory Woods is a community special school situated in Middlesbrough. The school works hard to provide its pupils with inclusive education for students who have severe learning difficulties and those with profound and multiple needs aged 4-19. In the latest Ofsted report from April 2018, the school was judged to be outstanding! We can confirm that we wholeheartedly agree. Priory Woods is an innovative, exciting, and positive place to learn.
The School ethos
The ethos of the school is that the arts are a vehicle for learning across the board, teaching staff take a holistic approach to learning and they have found that the arts improve not just the young people's creative skills but they have helped their hand and eye coordination, reading & communication skills, group work and problem-solving.
Priory Woods doesn't follow the mainstream curriculum model instead they use the Rochford recommendations for SEN, SLD & PMLD learning. As like Diane Rochford, the school found that trying to fit children with a range of needs into a mainstream model didn't work!
By following this new method that is based around three separate learning strands that cover a formal based curriculum, a semi-formal curriculum, and sensory learning. By adapting and utilising all these strands the school has been able to open up the learning they offer and making the options for pupils more fluid, there is no glass ceiling placed on anyone's ability and the pupils are flourishing.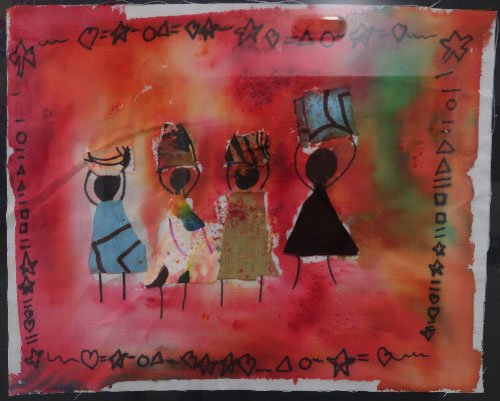 Artwork produced by a Secondary level Priory Woods pupil.
Artsmark Platinum

Gaining Artsmark platinum status has given the teachers a framework for continued improvement and opened the school up to a whole host of creative organisations and opportunities. The school has collaborated with many incredible organisations including The National Glass Centre, BBC Philharmonic musicians, TIN Arts, Theatre Hullabaloo and The Royal Shakespeare Company who supported students in performing a play at the Globe theatre itself! As you can imagine the school is very proud of their Platinum status and rightly so, as it has been earned through lots of hard work from both the students and staff.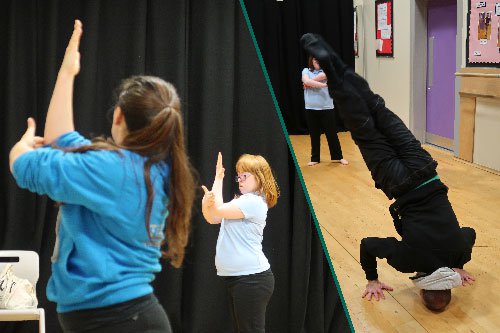 TIN Arts delivering a dance class at Priory Woods School. Photo credit: Listen and Like
Visiting creative lessons
We were lucky enough to observe both a music and dance lesson while at the school, and we left feeling energised, positive and inspired by the dynamic learning environment and the creative expression of the pupils.
How TIN Arts and ex-pupil George Williams is inspiring a new set of secondary pupils through dance.
Many former pupils of Priory Woods go on to achieve great things, but it has to be said that George is probably the most famous to date! At only 26 years old, George has an impressive CV, he's been dancing with TIN Arts since 2011, he has also toured nationally with Flex Dance, and in 2015 George was the very first dancer with a severe learning disability to join the National Youth Dance Company. Then in 2018, he toured the country performing his own work 'WIRED'.
George was also the inspiration behind TIN Arts & Yorkshire Dance creating The Talent Hub, which is an innovative professional development programme for talented dancers with a learning disability, autism or both.
George still makes time to regularly work with the pupils of Priory Woods, recently post 16 students watched him perform "Shake the Tree" with Flex Dance at Dance City in Newcastle. This performance was incredibly special as the dance piece incorporates film of George, filmed in the school's very own dance studio.
When we visited the school we were lucky enough to sit in on a dance lesson led by Maria Mandehzadeh, a dance practitioner from TIN Arts, and George who supported the delivery of the class alongside Maria. The group they were teaching consisted of 12-14-year-old pupils and in the lesson the young people created a piece of dance based around a poem, which allowed the students to imagine they were a flower that was beginning to blossom.
All of the pupils loved the lesson, and once they had finished, they were asking George lots of questions and to perform different dance moves. One young person told us: "I want to be just like George, he's amazing". Another girl said: "I love to dance and if George can do it so can I, we can do anything."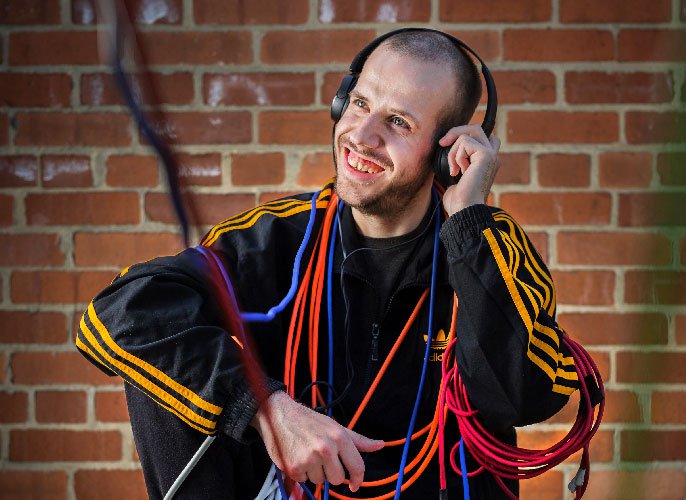 George Williams, A still photo from 'WIRED'. Photo credit: Rich Kenworthy
We also managed to speak to George himself to see how he felt about dance and how his presence has ignited the student's passion for the arts and dance in particular. Here's what this inspirational performer had to say:

When you attended Priory Woods as a pupil, what did you like the most?
'I liked the teachers and being with lots of friends. We had loads of fun. I liked playing football the most.'
What's the best thing about working with TIN Arts?
'Learning new skills and ways of moving. My body is getting strong, and I am getting fitter.'
What else would you like to achieve in your dance career?
'I would like to help others dance. Be a teacher and teach dances to new people.'
Why is creativity important to you?
'I have ideas in my head, and I put them into my body as movements.'
If you could give one piece of advice to a pupil at Priory Woods who dreams of being like you what would you tell them?
'Work hard and be happy.'
It's lovely to see George breaking down so many barriers and giving hope as well as helping to develop new opportunities, within the dance field, for the young students who will surely follow in his footsteps. If having incredible dancers popping into the school wasn't enough we also experienced a music lesson too!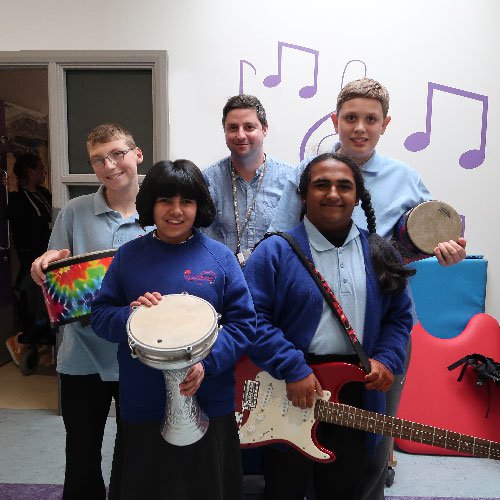 Adam Featherstone, the music teacher at Priory Woods and a small group of students.

Making music

As we stepped into the music lesson, we saw the young people performing Makaton to the Elvis Presley song 'Jail House Rock'. Makaton uses signs, symbols and speech to help people to communicate. Signs are used, along with speech, in standard spoken word order. Makaton is used to connect young people of all abilities and allows for fluid communication.
Along with learning the Makaton signs the students also memorised the words to the song along with learning to play the notes on the keyboard! Although this was all taken in their stride, we asked the class who chose the song - the pupils had all put songs forward they collectively voted on their favourite, and that was the song chosen to be learnt and performed.
This music project also combined film and history skills, once this secondary class of 12-year olds had mastered the song, they had to learn about prison and the daily life of prisoners as well as planning and performing their own 'Jail House Rock' music video on location at the Middlesbrough Town Hall underground cells. This project involved learning history, music, dance, video recording, teamwork and writing skills. The pupils were so excited to share it with us, and as you can see they did a fantastic job! See video here
We asked a couple of the pupils what they thought of music and here's what they had to say:
'It makes me feel happy, and I like signing.'
'I love it so much, my mum has bought me a keyboard to play at home, and my sister teaches me songs. I want to be in a band one day.'
Adam Featherstone, the music teacher at Priory Woods, explained how he approaches musical based learning: 'I just let the pupils get stuck in with active learning; we give them the opportunity to play a whole host of instruments, they sing and sign and explore music. A few years ago I set up a whole orchestra with a mixture of pupils who had a broad range of needs, and we use technology such as Figurenotes, ICT and eye gaze and the pupils love performing together, they constantly surprise me. We have students playing the cello, keyboard, steel drums, guitars and recorders.
'Because we have created a nurturing environment the kids are confident performing and interacting with anyone. What I love about working with other cultural organisations is being able to offer our pupils authentic experiences in the outside world.'
How does Culture Bridge North East (CBNE) support the school in delivering creative opportunities to students?
We also asked Adam what we could do to help to support other schools in the area? He told us that working with an area manager and being connected with local cultural organisations, opportunities and funding had been crucial for Priory Woods and that's why we want to extend that offer to all North East schools.
If you're reading this and you'd like to get in touch with either CBNE or a teacher from Priory Woods, or you know a school or teacher who might benefit from working collaboratively with another cultural organisation please email: bridge@twmuseums.org.uk
Read more about our secondary school campaign #Secondariescreate