Arts Award Case Study: The Northern School of Art
07 February 2023
Providing a rewarding lifeline for aspiring young creatives
My name is Andrea Goodwill MBE, Cluster Lead for Arts Award, Saturday Clubs, Access to HE and Foundation Diploma at The Northern School of Art's Middlesbrough campus. The Northern School of Art has provided students with specialist art and design education in the North East for over 100 years. We offer a wide range of post-16 creative courses at our Ofsted Outstanding FE campus in Middlesbrough and our degree-level campus in Hartlepool. The Arts Award courses are offered as part of our popular Saturday Clubs for 6-16-year-olds and The National Saturday Club that we run at our Middlesbrough campus.
We offer Arts Award at Bronze and Silver level for learners aged 14-15. Each level of the qualification can be achieved in one year, with students attending Saturday mornings between 10am – 1 pm during term time, for 35 weeks in total. Students are provided with free materials and equipment and have access to the School's specialist facilities, for example, textiles, ceramics and photography projects.
Why we started delivering Arts Award
We spotted a gap in the market for supporting students who aren't able to do GCSE Art, either because they are being home schooled, or their timetable at school doesn't permit them to. For students transitioning back into a mainstream education, the art school environment is also relaxed and supportive.
The impact on children and young people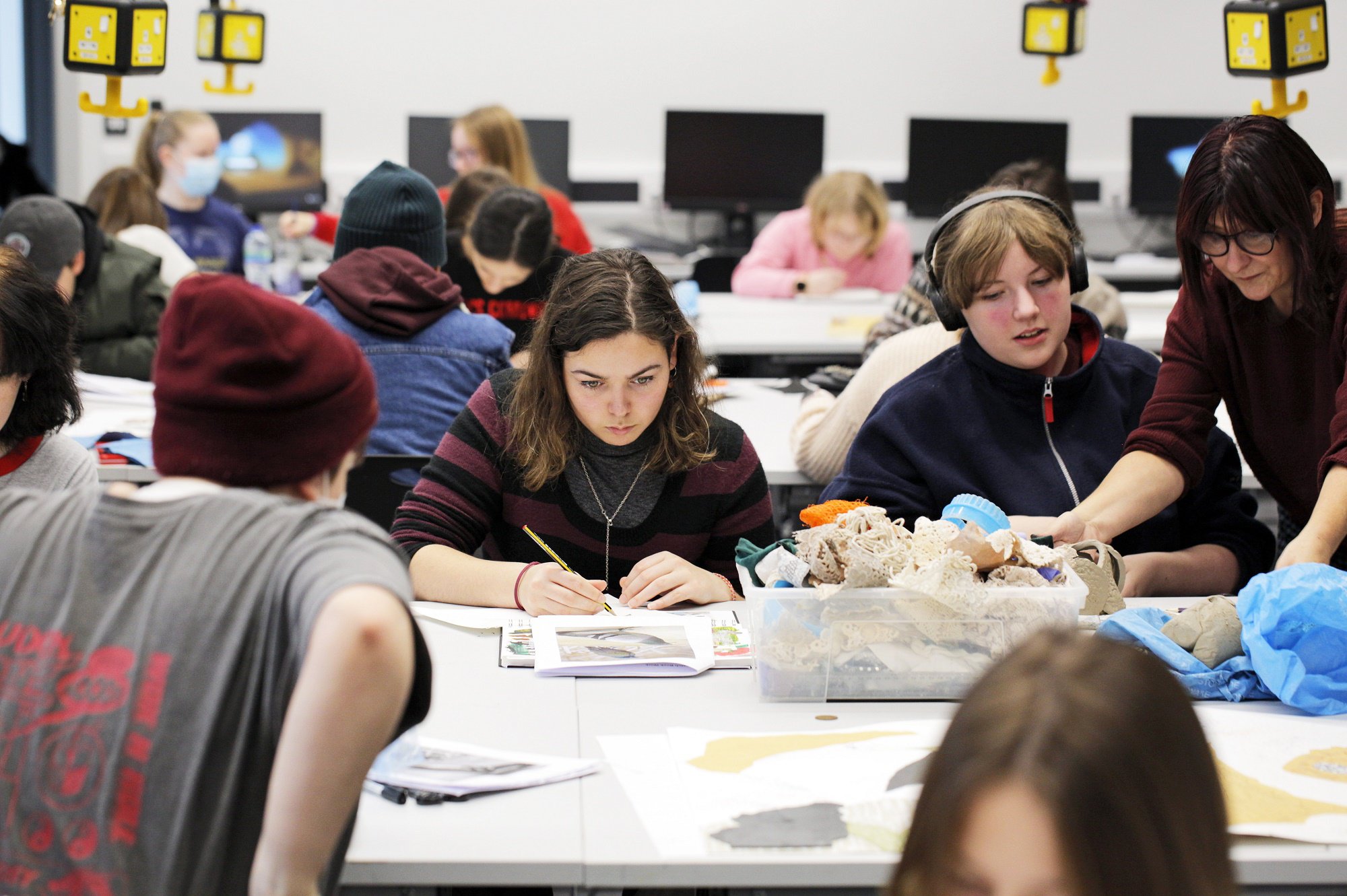 It's wonderful to see our learners gain confidence in themselves and their abilities as the course progresses, and they also make friends and develop their social skills. The quality of their art and design skills develops and their knowledge of artists and art history increases through our visits to galleries and from sessions by guest speakers. They also learn about careers and progression in the creative industries as well as the wide range of courses that are available to progress onto.
The response from students has been overwhelmingly positive and our applications continue to grow, which speaks for itself. As well as gaining in self-confidence, developing their artistic and creative abilities and seeing real value in a long-term ambition to use their talents as a career, some parents have told us that the course has been a bit of a lifeline for their child.
Feedback from sone of our students on the Arts Award course includes the following comments:
"You make lots of great friends and have amazing experiences and opportunities. It gives you an idea of using more professional and adventurous materials, mediums and techniques. The best thing is seeing all my friends and being able to do fun things with art that would otherwise be inaccessible."
"What I enjoy most is the art, painting and being around friends. It's a good opportunity and it has inspired me to do more creative art."
"I wanted to study the Arts Award to get an art qualification that would look good on my CV and to create opportunities for me in future. I enjoy seeing everyone's artwork and how they present themselves through their artwork. You also meet new people with similar interests to you and the teachers are nice and very helpful. I would say to anyone thinking of applying for the course to do it – it's fun and you do new and different things and it has made me think more about the different mediums I can experiment with."
"The reasons that I wanted to study the Arts Award was to meet new people and to express myself freely. I have found it really inspiring and enjoy the ideas and creative thinking around me in the class. It has made me think about possibly pursuing a career in the arts in the future."
What surprised us about Arts Award and our future plans
The flexibility of the qualification is great. Being able to deliver a qualification in a supportive environment where students can't fail, as they can always achieve it in the second year, if necessary, is very refreshing. Discovering that they can use their creative talents as part of their long-term ambitions and the range of opportunities of careers in the creative industry is also eye-opening for some students too.
It has enabled us to offer young people the opportunity to develop their skills and be more aware of the possibilities for their long-term progression using their creative skills. We have also been able to reach a wider audience and give them an insight into life at an art school.
For some students the course also provides a bit of a lifeline. Finding out that they can use their creativity as a career and that art is as important as other subjects really boosts their self-esteem.
Our intake of students has already doubled, and we aim to grow further to meet future demand. We are also working hard to make sure we are reaching the students that would benefit from the environment and the qualification.
Our top tips for delivering Arts Award
Be organised. It pays to be aware from the outset of the paperwork and assessment requirements. Evidence has to be clearly identified and cross-referenced, so build that into the scheme of work and make sure students are clear too.
We have an interview system in place to set it apart from being just a club. Students apply for the course and then attend an interview where we look through some work they have done at home.
Above all though, as an opportunity to provide a qualification that enables young people to focus on, develop and really value their creative skills, please do it!
Discover Arts Award
Arts Award inspires young people to grow their arts and leadership talents: it's creative, valuable and accessible.
Find out more at artsaward.org.uk