Arts Award Case Study: Durham University Library and Collections
09 November 2022
Arts Award at Durham University Library and Collections
My name is Emily Dowler, and I programme and deliver Arts within the Learning and Engagement Team at Durham University Library and Collections (DULC), which includes Arts Award. We are registered as an Arts Award Centre and Supporter, delivering Discover, Explore, Bronze and Silver levels. DULC extends across multiple sites and collections including the Art Collection, the Oriental Museum, Museum of Archeology, Durham Castle, Bill Bryson Library and the Botanic Gardens.
We started delivering Arts Award as a way to engage with children and young people in the arts. As part of a university, often temporary exhibitions can be based around new research, linked to historic collections, or as part of collaborations with other institutions. Arts Award has been a fantastic chance for us to share this research.
Starting in 2018, DULC have delivered Arts Award to over 300 children and young people. For Discover and Explore, we have partnered with regional heritage and arts sites, celebrated the centenary of Norman Cornish's birth and explored an exhibition on the life of breath. We have also delivered virtual Bronze and Silver Awards with young people.
The most overwhelming and impactful Arts Award I have delivered was during the first lockdown. In 2020, the Oriental Museum celebrated its 75th anniversary. The Oriental Museum's Arts Council England (ACE) funded exhibition, The Silk Roads, was delayed because of Covid-19. In order to utilise staff time already spent on the project, and to fully use the ACE funded project with communities most affected by this national emergency, we combined the project with the Summer in the City festival.
As the world went into lockdown, we moved into a virtual world and explored how we could deliver Bronze Arts Award online. I worked with young people aged 12-17, through The Girls' Network - a charity established to inspire and empower girls from the least advantaged communities - in our first virtual programme of this kind. We commissioned three artists to create an online workshop for young people from the Girls' Network to participate in during their own time, around school work and home life.
Initially I had planned to work with 15 young people, but due to interest we increased to 30. I also was fully aware of the gig economy largely affecting freelancers such as artists which is why I created an open call for artists to take part in this project. Bridie Jackson, a musician from the North East created virtual workshops helping participants learn how to create simple song structures. Kirsten Luckins produced a how to guide around story telling in theatre, encouraging participants to write and star in their own story. Isabella Carreras, a visual artist, designed a downloadable resource which guided each participant to make mistakes into a work of art.
Empowering, inspiring and engaging young people with the arts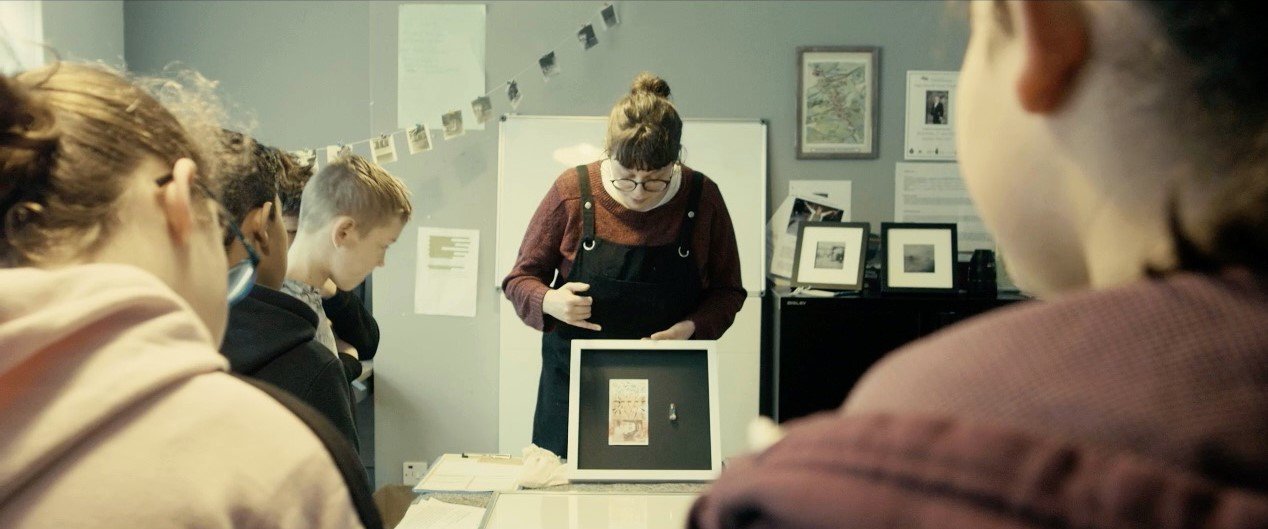 The project's aims were around empowering, inspiring and engaging young people with the arts, including motivating girls from across England to raise their aspirations, increase productivity and be creative while in lockdown. This was during a time when mental health and wellbeing was suffering, when young people were at home, increasing unsafe home lives and heightening anxiety. This project served as a focus when learning suffered. Feedback from the young people involved was overwhelmingly positive:
"It made me curious and therefore I wanted to find out more."
"What I enjoyed most about this activity was the theme of forgiveness, as sometimes it is not just about forgiving others, it's about forgiving yourself."
"This was really challenging for me (which is a good thing)."
"I want to try and get better at motivation. I have found that I have an idea, but a week after, I'll get bored. With Kirsten's workshop, it has inspired me to find a form that suits me best."
The biggest challenge in delivering a programme virtually was the lack of contact. Working with young people on platforms such as Google Hangouts is difficult, as you miss out on body language, response from students and communication is dulled. As this project started at the beginning of the pandemic, it would have benefited from the changes in technology, safeguarding policies and at home learning, which have all evolved.
The programme was planned to take each participant four weeks, although this was flexible. Sometimes life got in the way - mental health, bereavement, moving between guardians' homes, lack of internet and technology. This meant the programme ran for around six weeks for some participants. In the end, eight young people withdrew for varying reasons, mostly relating to the pandemic.
Looking back on this project now, two years later, I was astonished by the dedication and resilience of the young people from The Girls' Network in the face of so much change.
Discover Arts Award
Arts Award inspires young people to grow their arts and leadership talents: it's creative, valuable and accessible.
Find out more at artsaward.org.uk