Arts Award Case Study: BloomInArt
03 November 2022
Arts Award - changing perception to unlock potential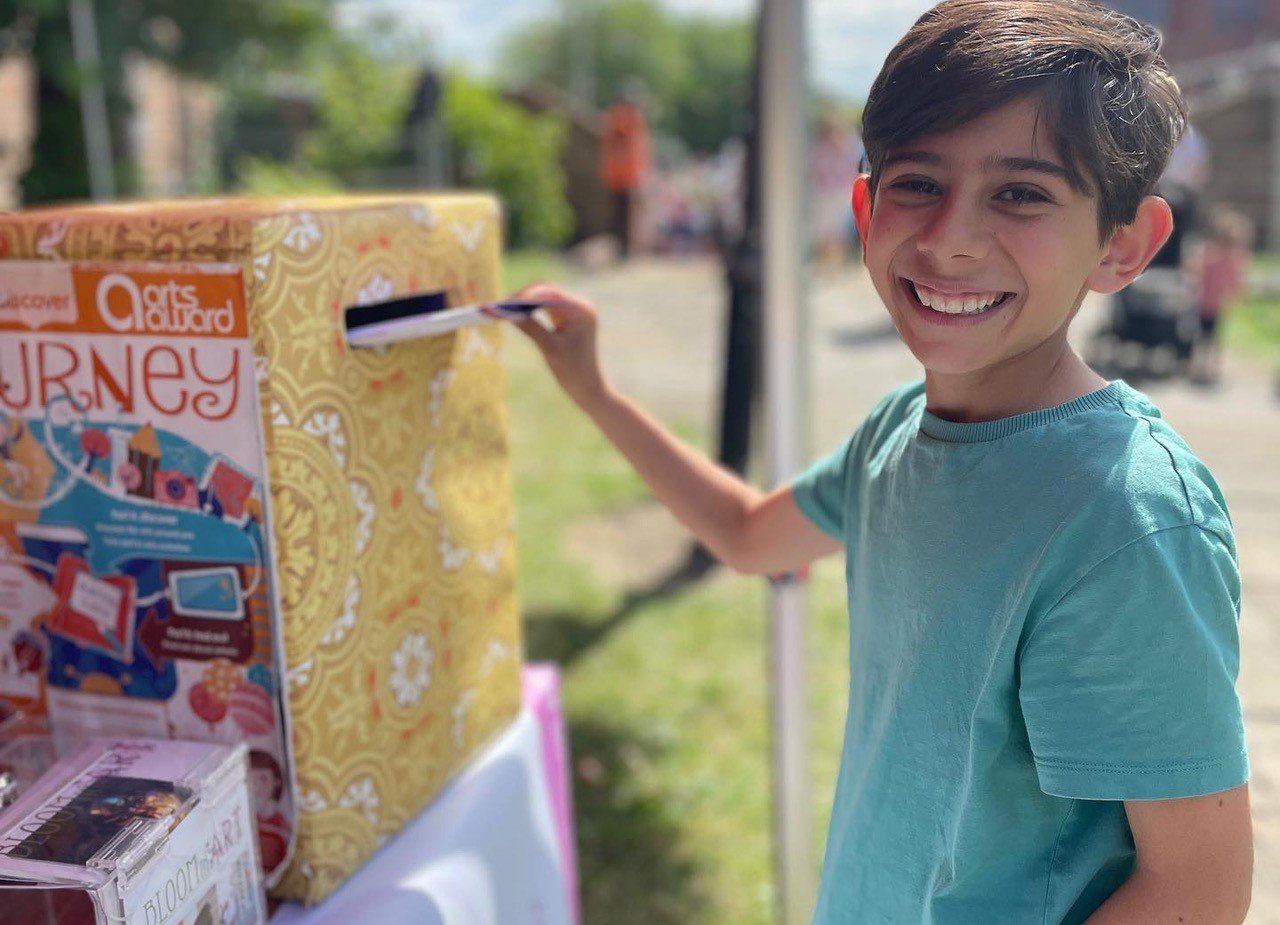 BloomInArt NorthEast CIC manage and deliver exciting participatory arts projects, connecting, engaging and inspiring people through the arts.
We established the business in 2014. The catalyst was our growing concern around the lack of creativity in education. We wanted more for our own children, and decided to set up an Arts Award centre focusing on our own specialisms - kiln glass, textiles, printmaking and sculpture.
The Arts Award qualification is incorporated into many of our projects as we continue to develop partnerships with artists, education, health and cultural organisations across the North East of England. Our inclusive projects aim to inspire strong, vibrant and happy communities, paving the way for the next generation of artists.
The majority of our projects have been delivered through:
Short term (3-6 weeks) projects in primary and secondary schools, ranging between school years 4-10.
At festivals with 'Discover In A Day' which relies on external partnerships and buy-in between the event organisers and participating artists at the event.
We build projects around the existing structure of Arts Award, which is a great basis for introducing creative terminology, processes and career paths, making young people aware that Art Is Everywhere. This in itself can change perceptions, be inspiring and revelatory for young people, parents and teachers alike.
We introduce young people to the process of thinking and working like an artist, taking inspiration from their surroundings, undertaking research, development and material exploration before moving onto the final creation. The secret to success is finding individual strengths. Some shine as directors, others as musicians, creators, makers and problem solvers. As the adviser it is our job to provide the right tools to unlock potential.
For this reason, we like to introduce lots of different artforms within a project. We deliver a mix of specialist processes that young people wouldn't usually have the opportunity to engage in, as well as more accessible, cost effective artforms that parents/carers/teachers can replicate.
"Teachers and support staff are still using and transferring the skills delivered by BloomInArt. This is of huge benefit to the children, as processes such as print making, are done well and are of far better quality."
Throston Primary School
A one stop shop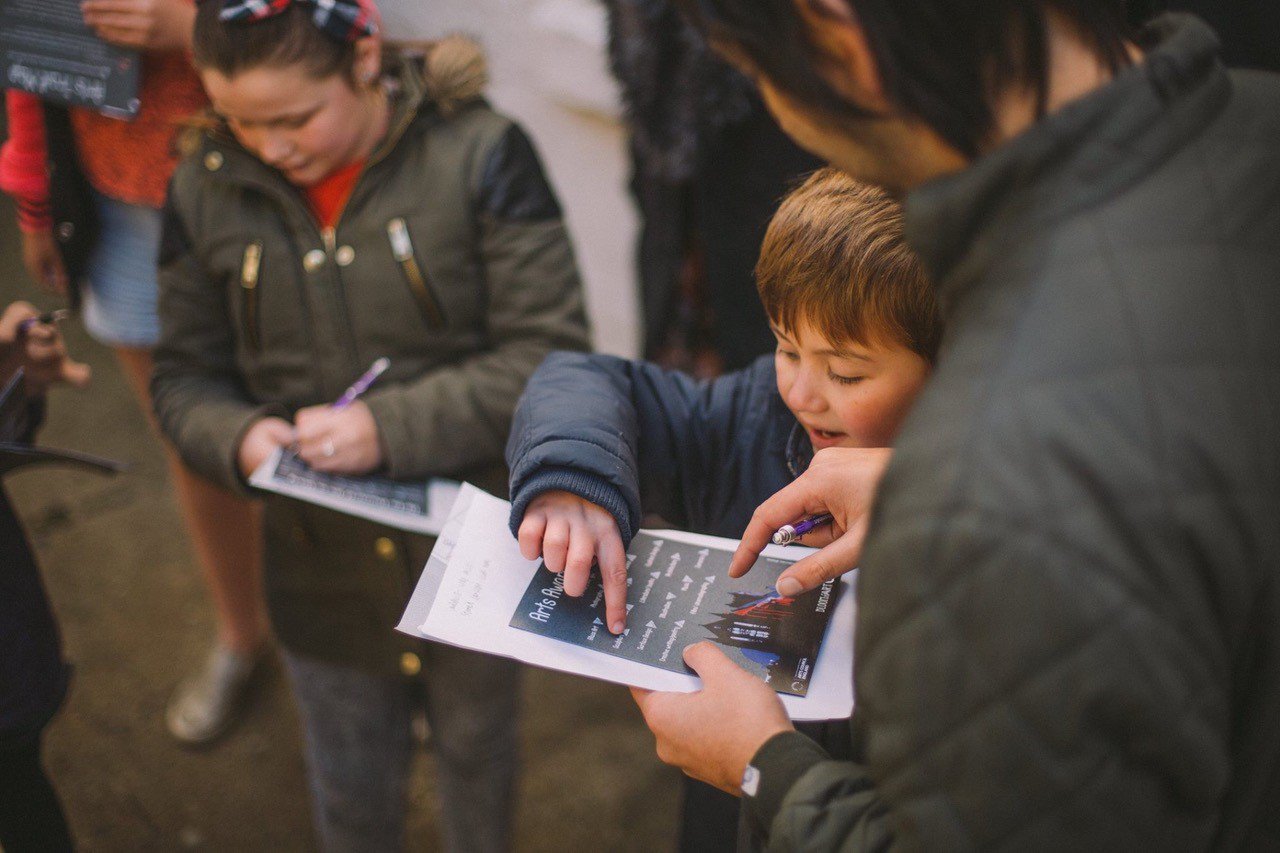 The bonus of being artists who manage an arts organisation, who can oversee delivery and moderation, means we are a one stop shop. We can cover all the criteria needed for the qualification without the need for additional external artist fees.
Over the years we have developed our own resources and creative means to gather evidence for the award. We have designed our own logbooks and use photography, video, post it notes and sketch books to collect evidence for Discover and Explore levels. These resources mean that the young artists can have fun and not get hung up on writing reems of evidence. They do not need to cost a lot either, which is great news because the costs associated with other aspects of the award can be expensive.
For those who are just starting out, the Arts Award website is a great place to find useful hints, tips and tools for registered advisers.
Cost can be one of the major challenges when delivering Arts Award. Certificates, moderation, materials and freelance fees soon add up. We have found this particularly challenging and believe it is more cost effective if you can deliver the award alongside an existing provision like a dance, theatre or music school where the teacher/adviser fee and room hire are already covered.
As freelancers, we build Arts Award into bigger projects that cover all of these associated fees. In 2022 we were commissioned by Stockton International Riverside Festival to deliver Discover Arts Award alongside three education based projects and during their live festival on Stockton High Street. We embraced this opportunity and supported a total of 417 young people to successfully achieve their award.
Highlighting and championing career paths in the creative industries is very important to us, and Arts Award provides a great platform to explore the different careers out there. The realisation that being an artist is more than being able to draw or paint is enlightening, and always a joy to see young people discovering their own talents and the impact this has on their confidence. Young people are always curious about how to become an artist, what steps to take and learning the different approaches people use to get there. Other top questions tend to be 'what happens if something goes wrong?' and 'how to fix a mistake?'
Creativity is a major tool in supporting resilience, creative thinking and teamwork. The reality is that things go wrong all the time, creativity gives safe space for experimentation, exploration and pushing boundaries, both personally and creatively.
Looking to the future
Looking to the future we are seeking core funding. We want to develop longer term projects that can become a weekly/fortnightly creative provision with Arts Award at the centre. This will help to build continuity, develop deeper relationships, provide more opportunities to support the progression through the awards, and into higher education or work experience opportunities. We love what we do and feel very privileged to be able to use Arts Award to unlock potential and inspire the artists of tomorrow.
Discover Arts Award
Arts Award inspires young people to grow their arts and leadership talents: it's creative, valuable and accessible.
Find out more at artsaward.org.uk