Arts Award Case Study: Beacon Films
16 January 2023
About Beacon Films and Arts Award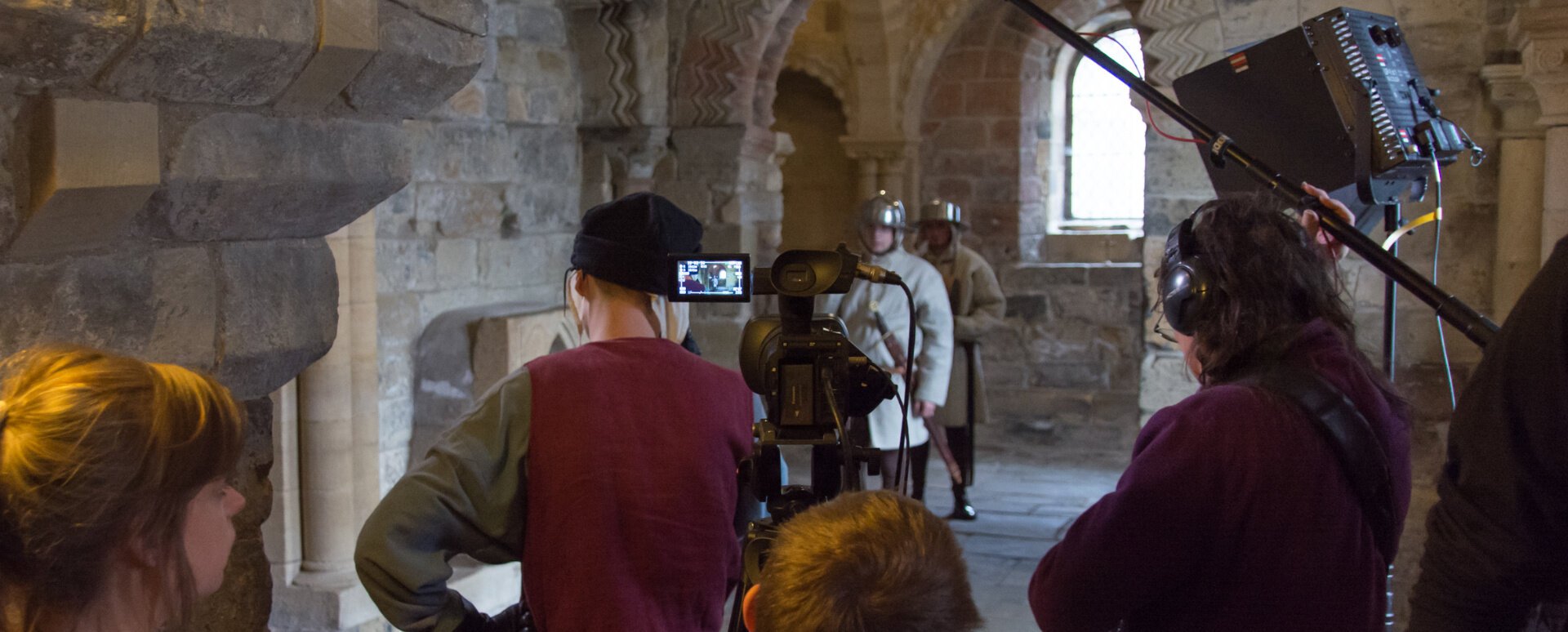 Beacon Films CIC is a production company of disabled, autistic and neurodivergent filmmakers.

Our Bronze Arts Award is delivered as part of the BFI Film Academy, which provides young people aged between 16-19 (or 20-25 with an Education, Health and Care Plan EHCP) the opportunity to actively learn about the processes behind creating short films.
As Beacon Films works with young people with learning disabilities, autism and additional needs, our approach to delivering the Arts Award had to be accessible and relaxed. Luckily, the open structure of the Bronze Arts Award allows for the flexibility and individuality of each participant.
How we deliver the Bronze Arts Award
Beacon Films BFI Film Academy takes the young people on a journey through the processes of film making over the course of eight to 12 full day sessions, culminating in a fully realised short film.

Through this journey they learn the history of film, storyboarding, script writing, prop and costume making, camera work, sound work and other key skills that they can then carry into their future work. Alongside this, young people also learn essential life or transferable skills, such as teamwork, communication and problem-solving.
Our Arts Award delivery has been designed to be integrated seamlessly into the planned sessions of the Academy, meaning that it isn't seen as something extra or like homework.
Each section of the Arts Award has a worksheet accompanying it which contains accessible key questions or tasks that are targeted to fulfil various aspects of the Bronze Arts Award. They aim to be uncomplicated and take only a small amount of time to complete (for example they can be filled in during a break) except for Part C worksheet which requires a little homework.
For Part D, the skills share, we originally designed this as a sharing with parents, showing them all the different roles on a small film set by shooting a short scene. When Covid hit this was no longer possible and meant rethinking how this could be done digitally without family and friends as an audience for the skills share. The solution was that each participant would create a "How-To" video, showing everyone in the group how-to do something in particular; so far, we've had: how-to draw, how-to dance, and how-to act to name but a few. By using Part D's skill share in this way it fulfils all of the associated criteria as well as being a great example of communication, creativity and a practical example of their knowledge and understanding of film.
What was challenging
One of the most challenging sections, especially during Covid, was Part B, as it requires thought and work outside of the sessions, which can be difficult depending on the participants' situation and what is generally going on in their lives. To counteract participants not being able to visit or see arts events outside of the sessions, we integrated an arts event within one of the sessions - a screening of a short film that participants reviewed afterwards. To fulfil Part B, posters and tickets to the event were printed and photos taken. Afterwards in small groups the participants reviewed the film.
Why it was important
The Arts Award allows us to capture the thoughts, ambitions, creativity and growing knowledge of each participant. It also challenges them to think a bit more about why they are interested in film, what they are learning and where they would like to go in the future. The skills developed by combining the Arts Award with the practical elements and knowledge building in the Film Academy sessions allows participants to gain both practical sector specific skills and transferable skills, making the Academy a fundamental step in potentially progressing into the world of work.

Our top tips for delivering Arts Award
One of the main things that we've tried to do with the Arts Award is to not think of it as an addition to the project, an add-on, but instead to integrate so it becomes part of the natural progression of the sessions and is inextricably linked to its content. By doing this it feels less like extra work and hopefully something a lot more fun for participants. So, my top tip for delivering Arts Award is work with the Project Facilitator to integrate the key tasks of the Arts Award and be creative with how you fulfil each part. Don't leave it as an extra task at the end of a session, but weave it into the natural format and progression of the session or sessions. The Arts Award is about promoting creativity so the adviser shouldn't be afraid of getting creative as well!
With thanks to:
Lead Project Facilitator: Andrew Coats
Assistant Project Facilitator: Zosia Feher
Support Worker: Sarah Rose
Arts Award Advisor: Emma Tilney
Producer: Michelle Fox
Development Director: Will Sadler
Discover Arts Award
Arts Award inspires young people to grow their arts and leadership talents: it's creative, valuable and accessible.
Find out more at artsaward.org.uk