The Duchess's Community High School celebrates platinum Artsmark status
27 April 2021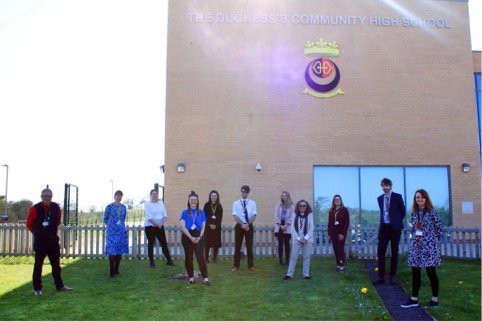 The Duchess's Community High School in Alnwick has been awarded the prestigious Platinum Artsmark Award by Arts Council England. It is the first secondary school in Northumberland, and one of only three secondary schools in the North East, to be awarded Platinum level.

Artsmark is the creative quality standard for schools and provides a clear framework for teachers to plan, develop and evaluate arts, culture and creativity across the curriculum.
Head of Creative Arts Faculty Ruth Brown, explains: "This is such a proud moment for all involved and celebrates the journey we have been on since our first award in 2014. Achieving Platinum is testament to the huge passion, dedication and drive our students and staff have, to make Duchess a centre of excellence for the visual and performing arts within Northumberland.
"This award, in addition to our recent awarding by Trinity College as an Arts Award Champion centre for 21/22, celebrates our commitment to outstanding creative teaching and learning opportunities for all and the core ethos of our community and partnerships forged with the cultural and arts sectors. This is a very special day for us and we are utterly delighted that Arts Council England and Artsmark have awarded us the highest arts accolade for schools."
There are now 286 North East schools registered for Artsmark. Culture Bridge North East (CBNE) and The Forge work together to deliver the Artsmark programme in the region. This includes support for schools at all stages of their journey, providing training, advice and introductions to leading cultural organisations.
Andrew Garrad, CBNE Area Manager North of Tyne and Artsmark lead, said: "We are absolutely thrilled The Duchess's Community High School received their Platinum Artsmark Award. We are lucky to have such a fantastic arts and cultural scene here in the North East and the number of Artsmark registrations demonstrates that this is valued by our schools. We are delighted that so many school leaders are recognising the prestige of this award and the intrinsic importance it has in supporting an arts focussed curriculum."
Tony Harrington, Executive Director, The Forge, is also delighted with the news: "Congratulations to Duchess's High School - it is a well deserved validation for their hard work. The Forge is pleased to have supported them on their exemplary Artsmark journey and we hope they will continue to work with us to support other schools in the region to deliver an innovative creative curriculum".
Find out more about Artsmark