No Filter - Creating and curating art for a collaborative exhibition
10 May 2022
No Filter - Creating and curating art for a collaborative exhibition
As part of CBNE's new programme, No Filter, we are showcasing youth-led creative projects within the North East. We most recently visited Durham Sixth Form Centre to meet with their Artist in Residence, Stuart Mel Wilson, to talk to him along with a group of year 12 students. They have collaborated on an exhibition called Pleonasm, which is a tool used to emphasise an idea through repetition and repetition was a key theme in many of the students' work. They also took inspiration from mythology and fables.
The exhibition showcases the work of six young artists who have created work across a range of mediums including animation, ceramics, print, sketching, spray painting and Stencilling. Their pieces sit alongside local artist, Stuart Mel Wilson, who is known for creating large scale 3D installation pieces that are intentionally playful.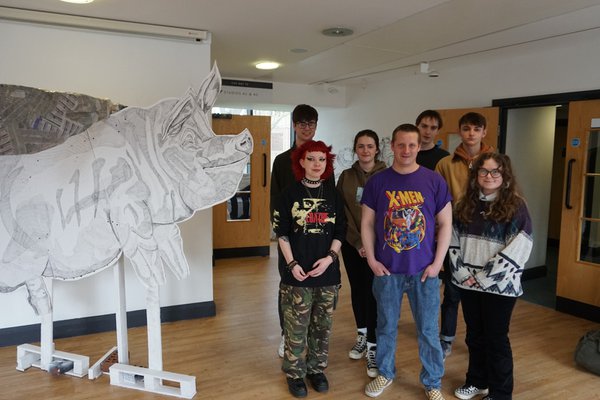 Stuart Mel Wilson and a group of students from Durham Sixth Form Centre who collaborated with him on the exhibition Pleonasm.
From the start it was important to Stuart to ensure that all of the students understood that their work, ideas and opinions were equal to his. He didn't see himself as being any more important than them and wanted all of the art created to be exhibited alongside each other in the collective space.
Before the project began, Stuart and the teaching staff worked on a collective brief and sent it to the students asking anyone interested to apply. This included creating a piece or multiple pieces of artwork around the theme of mythology and fables as well as working with Stuart and the other students to plan and curate the final work in an exhibition that would be open to the public throughout April.
Stuart started working with six students who worked together over eight-weeks to talk through their ideas, work on their art, give feedback and critiques and to then eventually plan and place the artwork together collectively.

The students didn't intentionally set out to create such diverse pieces of artwork, it just happened naturally as they all explored the theme and interpreted it in their own way, trying out new techniques and using different mediums in an organic way.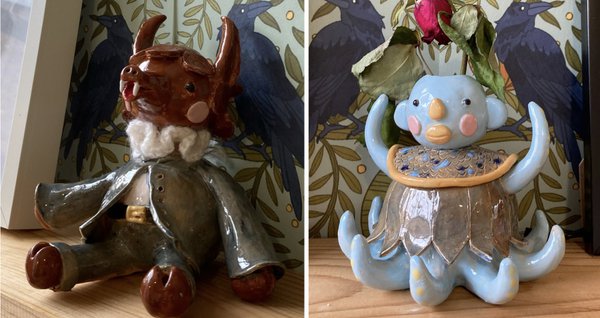 Ceramics made by Lucy Palmer, Student from Durham Sixth Form Centre.
Once all of the art was finished, Stuart and the students were trying to think of a way in which they could tie everyone's work together and that is when they came up with the idea of creating a living room scene in the gallery. They built a fireplace, fire and mantle and one student even created a wallpaper. They played one of the students' animations on the TV and added a rug and armchair to complete the living room scene. This worked really well in the space and has become a focal point in the gallery.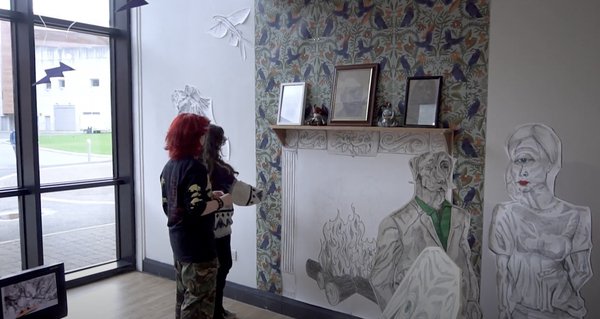 Students around the living room scene that makes up part of the Pleonasm exhibition.
As part of the No Filter programme we interviewed the students about their own experience and this is what they said:

What made you want to get involved in this art project?
"I thought it was a good opportunity to collaborate with a real artist and get some real professional practice experience which is actually an element of my foundation course. After looking through Stuart's portfolio, I decided that I really wanted to learn some new skills and try some new art techniques."
"I thought it would be a good opportunity to try out a new art style as my work is very different to Stuarts'. I also wanted to learn about curation."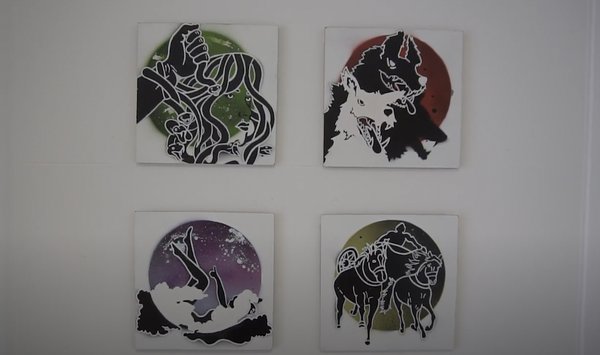 Artwork created by Jonathan Wrightson.
How did you all decide on what everyone's role would be in this project?

"Group meetings were a large part of the collaboration process and allowed us to gather an understanding of what each of our specialisms and interests were. Obviously the exhibition was linked to mythology, however, it was interesting to see how everyone interpreted the very broad genre. Due to our group having graphic, fine art and fashion students in it we all had very different ideas"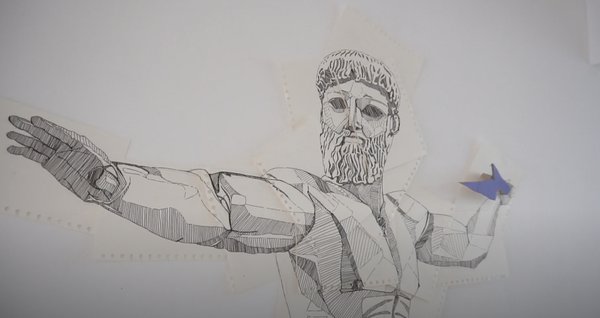 Artwork created by Ben Sunter.
What did you all learn from working with a real life artist?

"I hadn't thought of art as its own language and I tried to use my piece as a visual language. I wanted to convey a certain thought and I tried to do that with the pose and the sketching style."
"I learned the technicalities of creating an exhibition. It was really interesting problem solving and figuring out how to hang the different pieces of art."
"I had interesting conversations with Stuart about his career and work and he got me work experience at a gallery in Newcastle too"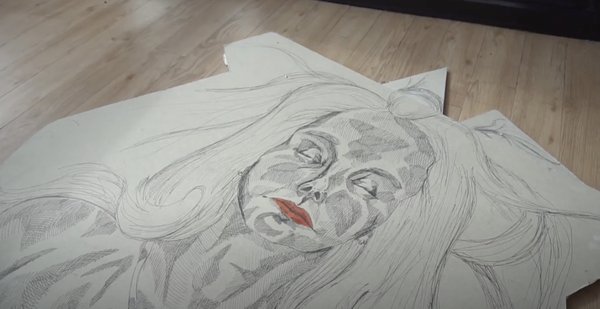 Artwork created by Artist Stuart Mel Wilson.
What has been the most challenging part of this project?

"Creating artwork that will sit alongside a real life artist felt incredibly daunting at first."
"I definitely struggled when it came to working with other students as I usually work alone so it was hard for me to put my trust into the group as a whole"
"I think the most difficult part of this project has been allocating time to it as I was also doing my final major project which meant managing my time was very tricky but I'm so pleased I did it"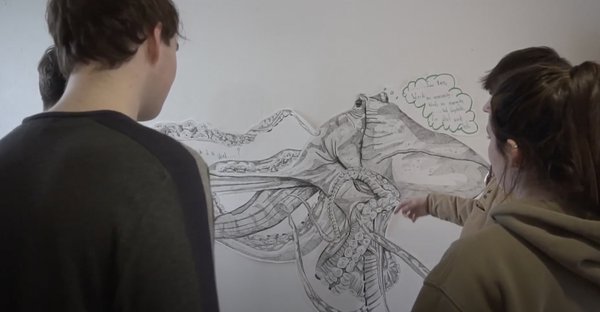 Students looking at artwork created by Artist Stuart Mel Wilson.
What has been the best bit of this project?

"It has pushed me to think about my work in a new way and to try new techniques."
"I really enjoyed being pushed out of my comfort zone and receiving one-to-one guidance on my artwork from a real artist, which was amazing."