BLOG: How is BALTIC, Centre for Contemporary Art supporting secondary schools to achieve Arts Award success?
13 February 2019
BLOG: How is BALTIC Centre for Contemporary Art supporting secondary schools to achieve Arts Award success?
We met with Rachael Rickwood, Assistant Producer (Children and Young People) at BALTIC to discuss how the gallery is working with secondary schools in the North East to achieve Arts Award Gold.
What is your role at BALTIC?

'I work with 0-19 year old children and young people. The focus of my role is to support creative learning, understanding and practice by working with schools and youth groups as well as families and young people that come to BALTIC independently. We also have a producer (education) and an assistant producer (schools and colleges) who work with schools and colleges inside and outside of BALTIC to offer creative and cultural learning experiences. We also work with a team of freelance artists with varied contemporary practices, who deliver a range of creative workshops and experiences.'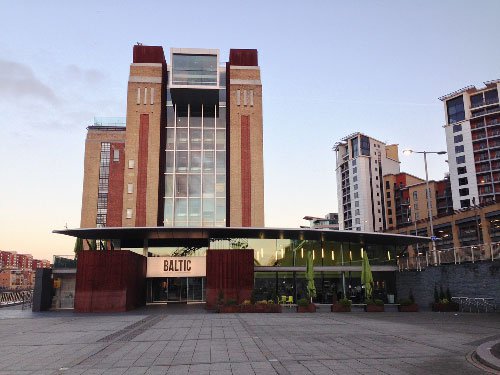 Photo: BALTIC Centre for Contemporary Art
Why do you think it's important for BALTIC to work with secondary school students in particular?
'We work with children and young people of all ages, but it's great to be able to deliver longer-term projects such as Arts Award Gold to 14-19-year-olds. Our work with Arts Council England allows us to deliver Arts Award programmes to as many young people as possible. Partnering up with schools is a great way for us to reach the wider community and achieve our goals. We work with schools across the North East and as part of our work, we try to ensure that we support schools that don't have easy access to Newcastle or Gateshead, as it's important for us to engage with as many North East young people as possible and we don't want their location to be a barrier to learning.'
What are the challenges for cultural organisations that want to deliver Arts Award, and especially Arts Award Gold?
'Often it can be challenging for cultural and creative organisations to deliver Arts Award Gold as you need to have consistent contact with the young people you're working with over a year. That's why delivering it in partnership with a school is a wonderful way to collaborate as it takes the financial burden away from the school and allows BALTIC to share resources and see the impact that Arts Award Gold has on students.'
How do you currently deliver Arts Award Gold?

'I offer Arts Award Gold in two ways; firstly it is available in-house at BALTIC for any 14-19-year-olds that wish to take part. It's free, and young people in the programme meet up every other week to discuss their progress, complete new tasks and set targets. It is a great way for young people to meet new friends outside of their day-to-day environment, and to gain a love of independent learning. I also facilitate a programme called ArtMix, this is a series of workshops and creative opportunities that take place on Wednesdays and Saturdays. It's a space that allows young people to create, connect and talk about art and the wider world. The young people that attend can also choose to complete Arts Award as part of this programme to build up a portfolio of work that can be used towards gaining a college or university place.'
'We also offer Arts Award Gold externally, through partnering up with secondary schools. We have been working with Duke's Secondary School in Ashington for a year and have already had five pupils obtain Arts Award Gold. Plus we have a new cohort of six pupils who are currently five months into their Arts Award Gold journey. This partnership came together very naturally as both the school and BALTIC were willing to share resources. After meeting with the creative teaching team, we felt we would work well together and that it would be mutually beneficial to deliver the award collaboratively as a joint partnership. It has worked incredibly well so far; I visit the school once a month, and work with the teaching team to create a plan for how we will cover each unit within the award. We also schedule visits to BALTIC for the students and I support them with access to artists, and other people working within the arts.'

Photo: Duke's Secondary School, Art Department.
What would you say are the benefits in delivering Arts Award Gold in partnership with a school?
'At BALTIC, we aim to create strong working relationships with as many North East school's as possible, to ensure we reach as many young people as we can. This also allows us to learn from educators that we meet, and as a result constantly improve our own teaching and delivery style. We are also able to learn about opportunities and find out how we can best support teachers to deliver a broader and more interactive learning experience.'
'As for the schools, we hope that it's useful for teachers to have a fresh perspective and to have someone else to discuss ideas with. We can let them know about any additional opportunities that are available to the school with regards to funding, trips and projects. We can share our access to artists and to art space – they can work with, talk to and experiment with the arts in a wider sense. It's great for students to learn about all of the different roles that are available in the art world. Arts Award isn't just about becoming an artist it's about exploring art to find your own creative voice.'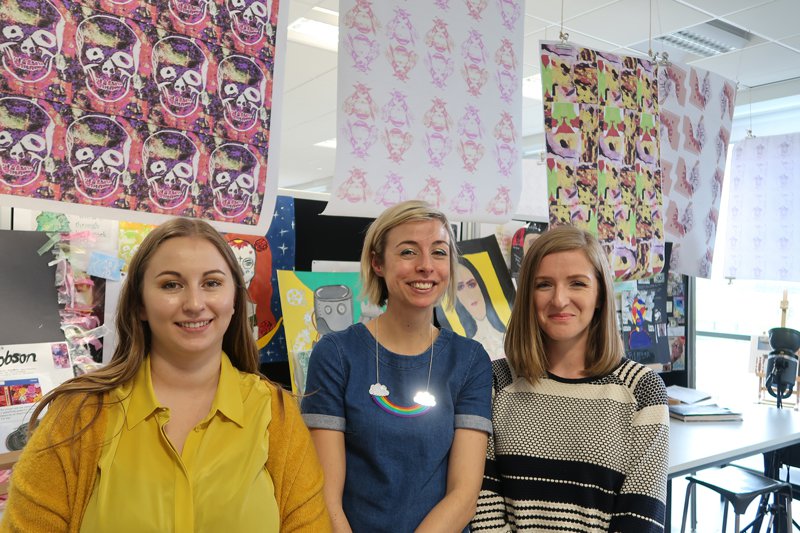 Photo: Franky Leigh, Teacher of Art & Design & Louise Gatti, Subject Lead Art & Design from Duke's Secondary School with Rachael Rickwood, Assistant Producer (Children and Young People) BALTIC, Centre for Contemporary Art.
What do you feel the students take from the Arts Award Gold experience?
'The students that I have worked with at Duke's Secondary School have been so incredibly excited and enthusiastic. They're a real joy to work with and as well as the 16 UCAS points that they gain once they complete Arts Award Gold, I have seen them become independent and creative thinkers. All the pupils have grown in confidence and they have told me that they enjoy meeting people outside of school and having the opportunity to learn from artists, producers and technicians who are currently working in the field. In Unit 2 of the award the students have to organise an event themselves and although daunting at first this is usually their favourite part, as being given the power and responsibility of organising an event is incredibly empowering and exciting.'
Can you explain a little bit about Arts Award Gold and what topics the students cover?
'Arts Award Gold has two units, unit 1 focuses on extending your own art practice, researching artists and reviewing art, looking at the wider arts sector and the wide range of opportunities and jobs available within the art world. Then finally students will communicate their views on an art issue of their choice by creating a video, writing an essay or creating a podcast. There are lots of options for young people to get creative. Whilst unit 2 focuses on leadership skills and project management. The award allows students to work together or independently to plan or oversee a specific event. Currently several participants have contributed to LateMix, an upcoming event at BALTIC for 12-19 year olds.
'Arts Award Gold includes reviewing art, working with artists, work experience or volunteering, creating a personal portfolio all whilst building upon your skills and Knowledge . It allows students to look at more than having an artistic practice such a painting; they can also blog, write, vlog and learn so much more about the art world as a whole.'
Is Arts Award Gold graded?
'No, you can only pass or not pass Arts Award Gold there are not specific grades. As many are already completing GCSE's or A-levels, it's good for them to have a creative outlet that doesn't involve an exam or a target grade. As long as they complete enough portfolio work, and have completed both units they will obtain a pass which is 16 UCAS points.'
As well as meeting Rachael we were able to speak to a few of the students that she is currently working with at Duke's Secondary School and here are a few of the wonderful comments they shared with our team:
What do you like about working in partnership with BALTIC on Arts Award Gold?
'Rachael is really fun, and it's good to be working with someone who has a job in the arts now.'
'There is more freedom with Arts Award Gold, and you don't feel the pressure, as much as you do with A-levels, it feels more like fun than work.'
'We didn't know about all of the jobs that you can do in the arts. There are loads more opportunities here than I thought.'
If you want to learn more about Arts Award Gold you can visit the Arts Award website.
If you'd like to speak to Rachael or one of the other creative learning team members about the opportunities on offer at BALTIC click HERE.