BLOG: Working in partnership
10 October 2019
By Rosanna Blakesley-Jones, Assistant Vice Principal, Bede Academy
Partnership has been the key component in our Artsmark journey. Our partnership with The Forge has enabled us to broaden our students' experience of the Arts and to offer them many exciting and enriching opportunities. A key aspect of our partnership has been working together on a Paul Hamlyn Explore and Test project which sought to develop students' writing skills through the means of photography. Our Year 6 students worked with a professional photographer and writer; this gave them agency to express and explore their identity in a medium which they didn't associate with a traditional classroom. Their photographic work was displayed formally in an exhibition for the local community and the students read their creative writing at the exhibition evening. Their work was then shared with our wider communities through an exhibition at our local hospital. We are now deeply involved in a new Paul Hamlyn supported Teacher Development Research Programme which sprang out of this initial project. We are one of seven research hub schools and we are working with The Forge team and two photographers on a CPDL programme that will upskill our teachers and help them develop a new approach to teaching creative writing by harnessing students' visual literacy skills.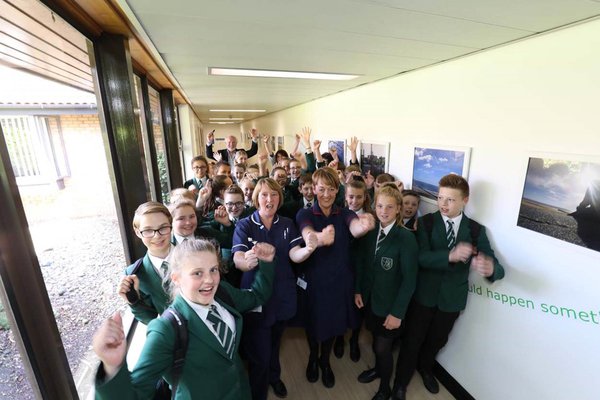 Launch of the photography exhibition of children's work at Blyth Community Hospital, opened by Alan Richardson, Chairman of Northumbria Healthcare NHS Foundation Trust

Our partnership with the Forge has had an impact on both students and staff at Bede Academy. Following the success of the Paul Hamlyn project, Bev Briggs from The Forge co-wrote and delivered INSET training to staff from Bede Academy on culture and creativity; exploring ways of developing students' creativity in and out of the classroom. Sixth Form students gained a useful insight into the use of rhetorical techniques and formal debating skills in the 'Your Voice Your Say project'. The project cumulated in a formal debate with a judging panel lead by Lord Shipley, who also spoke to the Sixth Form about The House of Lords and the British Parliament.
Paul Birdsall, Head of Art at Bede Academy collaborated with other teachers and cultural venues at BALTIC, the Sage and Live Theatre to devise an Artsmark programme around the theme of 'nooks and crannies' to connect the venues as part of a Quayside Trail event. A group of Year 8 students explored the trail with a practical workshop at BALTIC to explore the gallery spaces and the building itself to compose some creative compositions. At the Sage, the students made a soundscape out of the building itself and at Live Theatre they created elements of a story-developing character and narrative. The trail certainly broke down some barriers and preconceptions of the cultural offer that is there for them and will hopefully help the venues refine their offer for schools.
Engaging in partnerships with The Forge and with cultural venues has provided rich and engaging experiences for our students and staff, which has developed and inspired them. The impact of these projects still reverberate, as we continue to develop aspects of these projects in the Academy over the longer term.