This course builds on the requirement that children should be able to think critically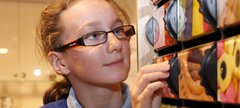 Shipley Art Gallery, Gateshead, Prince Consort Road
Gateshead, NE8 4JB
9.30 - 12noon
This course builds on the requirement that children should be able to think critically and develop a more rigorous understanding of art and design. We will also look at how art and design both reflect and shape our history and culture.
What will be covered:
Teachers will be able to explore what is available within the Shipley Art Gallery while developing a practitioner's confidence in using the gallery space to support learning and teaching. Participate in an ARTiculate: Visual Literacy workshop delivered by the gallery learning team with the aim of:
Developing children's confidence in 'reading' works of art.
Discovering interesting ways to explore rich vocabulary generated through exploring works of art.
Further, develop children's ability to articulate their understanding of art and design through the use of cooperative group work.
Please note that we are advertising this event on behalf of the Shipley Art Gallery . If you'd like any further details please contact them directly.