The Social and Cultural Value of Participatory Arts for Young People.
02 April 2019
The Social and Cultural Value of Participatory Arts for Young People.
Florrie Darling is a PhD researcher from the School of Geography, Politics and Sociology at Newcastle University. She is working on an ESRC-funded collaborative PhD with Culture Bridge North East about The Social and Cultural Value of Participatory Arts for Young People.
It has been almost two years since I wrote my last blog for Culture Bridge North East. I have now completed my fieldwork and I was asked to write something about the importance of creativity for secondary school pupils as part of a wider campaign to promote the high quality arts and cultural activity and opportunities that exist for young people across the North East.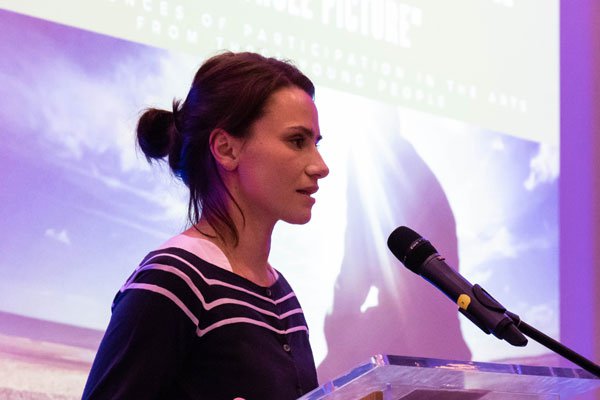 Florrie Darling, PhD researcher from the School of Geography, Politics and Sociology at Newcastle University speaking at the Imagine If... conference in 2018

Creativity and the arts
Before I discuss some of the things I learned from my research about creative practice in a secondary school environment, I will briefly set out some terms of reference. A distinction is sometimes made between creativity and thinking creatively and there can be a blurring and conflating of art and creativity. Creativity is all about using your imagination to make something new, it is a way of thinking that exists in all of us, can be found as much in STEM as in the arts and transcends sectors. Government funding cuts to education and the adverse implications for the arts in schools are well-documented but as they progress through education, many young people also find that the potential for creativity is limited across the whole curriculum. Whilst I believe in an education system where young people are encouraged to be curious, to think independently, experiment and make mistakes rather than merely consume adult knowledge, making a case for more creativity in the secondary school curriculum is far beyond the remit of this piece or indeed my doctoral thesis. Whilst the arts have the potential to empower young people to believe in their ideas and convey what is important to them, art-practice is not inherently creative, and creativity is not necessarily arts-related. Whilst participating in some arts activities such as performing in a school play or learning an instrument are important artistic skills, my research focuses on projects where young people used an artistic medium to create something original. Within these arts projects, I observed some of the ways creativity could be both facilitated and limited within a secondary school environment and the ways different contexts shaped young people's experience.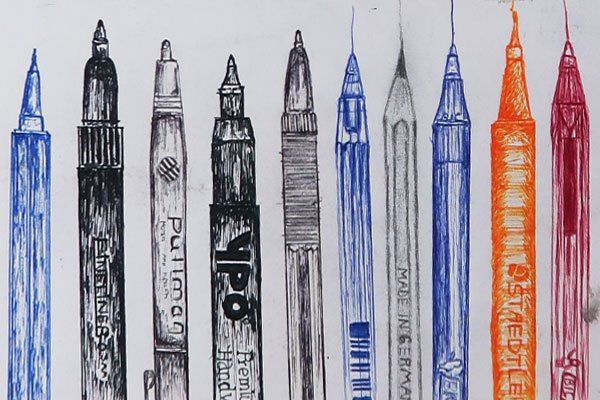 Artwork taken at Carmel College as part of our #Secondariescreate campaign.

PhD Research
My research explores the various different factors and contexts that shape how a young person participates in artistic activities including the regional, cultural, political and educational landscape and contemporary experiences of childhood. Within these contexts, the study examines how young people feel about taking part in arts-based projects and how valuable these opportunities are for them to express themselves, comprehend and reflect on their experiences and identities and communicate to others.
My fieldwork was based in three North East secondary schools with young people aged 11-14 years old taking part in projects encompassing visual art, creative writing and music. Each of the three schools had partnered with an arts organisation to facilitate a creative project during curriculum time. The research methods used were designed to enable the gathering of different types of data: semi-structured interviews, field conversations, group discussions, participant observations, and the artworks produced by the young people themselves through the creative process.
The Creative process
As part of my PhD research, I observed approximately 150 young people taking part in an arts project in school. I discovered that young people are a diverse group; they are not all the same just like adults are not the same. We have a tendency to group and label young people according to their date of birth, academic ability, household income, the clothes they choose to wear, their accent, whether they live with their parents, etc and whilst these labels exist in order to acknowledge the additional support that some young people need, they can also mask the significant variations in young people's experiences. Creative interventions in secondary schools often target particular groups of young people and are justified based on instrumental outcomes such as educational attainment, social mobility and employability. Conversely, being taken outside of the classroom, interacting with artists and arts-practice can allow young people to break out of particular labels and explore alternative identities.
Through my observations, I noticed that young people's engagement with creative practice was more meaningful when there was mutual respect between the artist and the students and their ideas were listened to and their interests incorporated into the development of the projects. Treating young people as equals in the creation of artwork made it relevant and gave them a sense of ownership over the outcome. Where projects took place over a sustained period, it gave artists, producers, young people and teachers a chance to get to know each other, gain confidence and made for a more rewarding process.
I interviewed a young person called Max. I asked him about a photography and creative writing project he was taking part in at school. He spoke very positively about the project and the different style of teaching and learning he had experienced in artist-led workshops. He said "I am not very smart [but in this project] you don't have to be smart, you just have to think". Max sometimes struggled to engage and could be disruptive in school, but in the arts-project, he had felt valued for his imagination.
Throughout the creative process, artists asked young people open questions like 'what makes you happy?' or 'if you were an animal what would it be?' giving young people opportunities to think about themselves and their lives in a different way. The anonymity of metaphor or the ambiguity of adopting a different character or perspective allowed some young people to imagine alternative identities and think about solutions to difficulties they were facing. Many young people openly and intimately shared traumatic experiences through their artwork and said that they appreciated an opportunity for self-expression. As one young person put it, 'It actually made me feel better, like getting all of those little bits out of me.' However, it is important to consider the potential consequences of bringing worries and traumatic experiences to light, including those within and outside of the remit of safeguarding policies. Teachers and arts professionals need to ensure that there are systems in place to support young people.
Through the workshops and activities, the young people were given the chance to discuss and reflect on their own lives and sense of self, the social forces that were shaping who they were and what was possible, the paradoxical pressure to be an individual whilst also conforming to the mainstream and hear about other people's interests, experiences and perspectives. Through these discussions and creative exercises they were able to see another side to their classmates. They showed pride in the achievements of others, were supportive of each other and some activities made them realise they had more in common with others than they knew.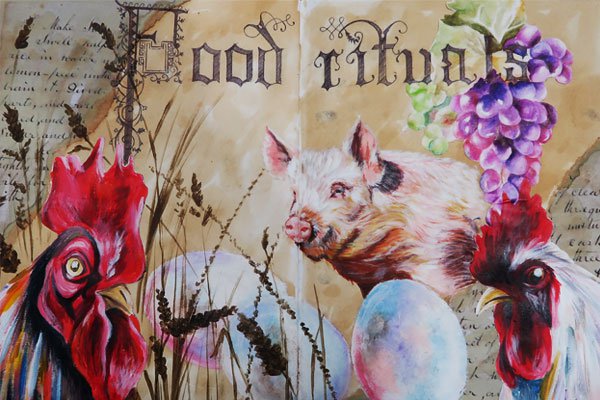 Artwork taken at Carmel College as part of our #Secondariescreate campaign

Challenges to creativity
It is important to be careful not to create a space where a level of creative expression is encouraged that is censored afterwards. The rules, norms and identities that exist within a secondary school can govern creative content and this can sometimes create a tension between artists, teachers and young people.
I would suggest that before a project takes place, teachers, artists and young people should agree key values, ground rules and shared objectives as this will help to safe guard against some of the issues related to conflicts of interest and ownership.
All three of my fieldwork projects involved an arts organisation going into a school to run an arts-based project. Two of the projects were externally funded and the third was funded by the school. Despite the different funding sources, all three included an element of literacy-development and arts organisations, school leaders and teachers all shared that they can feel a pressure to justify projects based on broader curriculum objectives. Due to the fact that arts projects often require funding, the intended outcomes can be defined before a project has started. Whilst securing funding is an important consideration, leaving space for the artists and young people involved in a project to explore an art form and shape the focus, provides rich and in-depth opportunities for creativity.
When projects are borne out of adult-agendas they often don't resonate with young people or fully reflect their interests or experiences. Participatory art recognises that artistic value is subjective and therefore it is incredibly important that young people are given the freedom to develop their own ideas, celebrate who they are and what they know and communicate the things they care about.