Blog: Student voice: Student choice
07 October 2019
​By Cheryl Gavin, Senior Project Manager, Helix Arts
Helix Arts became an Artsmark Partner earlier this year, so we jumped on the opportunity to work with Kenton School as part of the EQiPP programme.

Developed from shared ambitions, Siobhan Verrall, Head of Art at Kenton School and I focused on young people's choice in school and facilitating in alternative spaces. We aimed to work with pupils to re-curate their work across the wider school community.
The project aimed to contribute to:
The development of a school arts council.
Electing arts ambassadors to provide greater student voice and actively involving students in the decision making process.
Opening a school art gallery.
Delivery of Arts Award.
The artistic development for teachers, young people, artists and producers.
Young person decision making.
Implementing Arts Award and accrediting activity.
Co production of the programme.
Arts Award Explore was wrapped around this to further encourage young people's decision making and to ensure a co-production ethos throughout.
In close collaboration with school staff, Helix Arts co-facilitated a group of 30 Year 7 pupils supported by art teacher Sarah Adams and curator and visual artist Lesley Guy to illuminate the possibilities and explain the curatorial approaches they could take and experiment with in unusual spaces across the large school site.
The approach included a taster session to inform the model and content for delivery and then a whole day - cross art form workshop around the Arts Award elements, Inspire – Explore - Create – Present. Helix Arts provided a more relaxed space to work – using classrooms, the accelerated learning suite, drama studio, corridors, floors… this allowed for greater creativity and the sharing of some very exciting and unusual ideas.
Siobhan Verrall, Kenton School said "Oracy is a key priority in the school and the Arts Award day really promoted dialogue about art and visual literacy."
Outcomes included greater power and leadership from pupils and quicker decisions made with quicker actions implemented. The pupils enjoyed the decision making process and showed a mature attitude to having the decision making power in their hands.
Siobhan continued: "The ease in which students in year 7 could verbalise higher order thinking – context, meaning etc. a skill we often reserve until KS4."
This empowerment led to freedom and creative choices, a re-imagined use of school and a more flexible approach to their learning experiences.
Expression throughout was varied and meaningful and resulted in a high level of interaction, which led to increased self-confidence and further stretched their skills.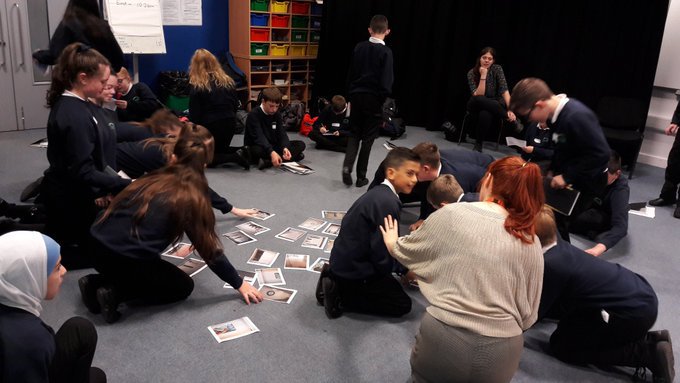 Year 7 pupil comments included:

I enjoyed …

"Being part of something [creative] and making decisions."
"Getting opinions from different points and perspectives."
"Working with other artists and arts organisations was nice to increase and expand my understanding of art and the types of art I could explore."
"Working with Lesley and Cheryl as they brought out my drawing confidence."
Teachers comments included:
"The range of activities and creativity in engagement worked well."
"[Helix Arts] thought about ways to give more choice to students."
"Working with an external agency [Helix Arts] was useful in giving authenticity to the project and raising the bar with engagement and outcomes."
Siobhan explains: "By changing the space, it allowed for more meaningful group work, discussion and interaction. The depth of reflection that the year 7 students showed, was incredible.
"As a teacher and head of department, I really enjoyed working with outside agencies and practitioners. It gave greater authenticity to the project and raised the bar with engagement and outcomes. It also provided students with art role models besides their teachers and showed students the opportunities and career opportunities in the creative industry.
"It has shown how an outside agency can really inspire and engage student thinking. It has brought about changes in the scheme of work which we may not have encountered, it shows students do have a real thirst for ownership and empowerment in their work, scheme of work and display of their work.
"The positive response to this project has encourage me to develop a student led arts council to support the planning of scheme of work student led exhibitions and provide greater student voice at all levels of planning within the art department.
"The partnership with Helix Arts will continue beyond this research project and I hope to run further Arts Awards in the future."