Blog: delivering Gold Arts Award during lockdown
01 February 2021
By Hannah Scully, Teacher of Visual Arts, Durham Sixth Form Centre
At DSFC we are fortunate to have a variety of cultural partners that we regularly work with and the students have all sorts of creative opportunities available in the North East. This work is an integral part of our Arts Award delivery and many students get involved in extra activities, so it is an added bonus for them to be able to gain an extra qualification. Arts Award also pushes students to experience opportunities that they may not have had the chance to experience otherwise.
When lockdown hit, half of the group were very close to finishing their Arts Award portfolios and had fortunately already hosted their public events. However, some of the group were just about to launch their much anticipated events when everything closed. One student was about to launch a website so she was not affected too much fortunately. However two of the group were due to host an online film festival. They are both incredibly enthusiastic students who said yes to every possible opportunity and were involved in some high profile events. One student not only volunteered at The Big Draw event but filmed it to create a promotional video celebrating the event for the organisers. She had a second placement with RT projects and independently worked alongside them to create another film for that charity. She was also very excited to try out the dark room as had never used facilities like this. Luckily these students had access to a computer at home and were able to liaise with each other to move the film festival online. This was a great success and the students were able to access the footage they needed to host the event on Google Sites and integrate Google forms to gather feedback. Although it was a success, this change of plans meant their roles were both reduced and they missed out on hosting their event in a theatre complete with an audience, popcorn and snacks.
We were very fortunate at DSFC to already be using the Google platform which allowed easy and direct contact with the Arts Award students through their Google Classroom. We had already made the switch from physical to digital portfolios two years prior which proved to be a huge bonus as we were locked down.
Arts Award has allowed us to really capture the impact of all the extra things the students get involved in. Having them reflect on their placements and experiences has been a huge benefit and has allowed them to formalise their experiences as creative practitioners. Some of the group decided to continue studies at DSFC for the Foundation course which has supported them in their professional practice unit where they pursue further opportunities and experience. Many of the Arts Award cohort went on to study at University and were able to use their experiences in Arts Award for their portfolios, UCAS applications and interviews. Being able to work with creative practitioners directly, raises aspiration for our young people and allows them to view first hand what life may be like pursuing a creative career.
"As someone who studied TV and film but did not come from a visual arts background, this qualification really helped me to transition onto my Foundation Course where I have been able to further my creative practices which will benefit me for years to come" Anya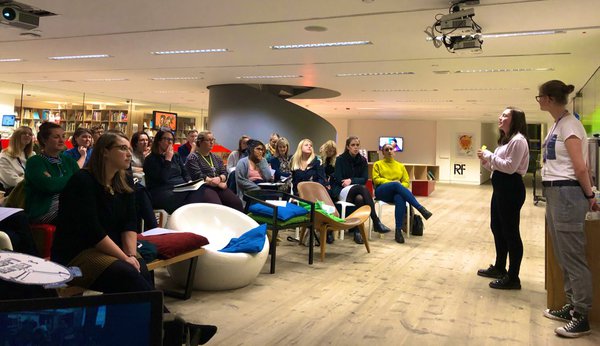 Photo: Jen and Anya
The students always surprise me with their innovation, problem solving and proactive attitudes. This year, three students put on a feminist art exhibition in The Old Cinema Launderette, as part of the International Womens Day celebration, they also sold merchandise to raise money for charity at the event.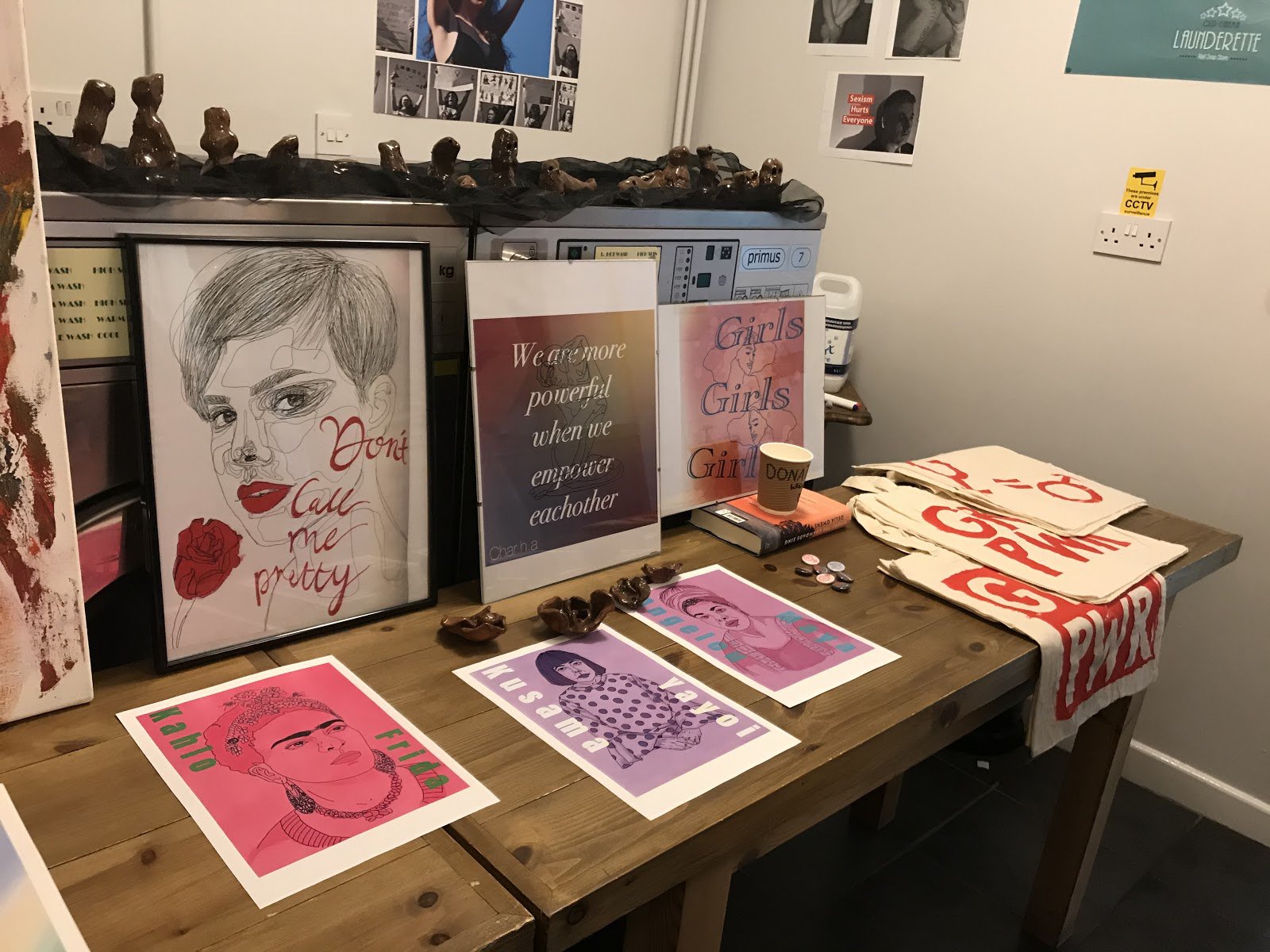 Another part of Arts Award that astonishes me is how the opportunities often lead on to further opportunities. For example, two of the students who volunteered as part of The Big Draw were asked to attend a meeting of art teachers hosted by NEATEN (The North East Art Teacher Educator network) at the BALTIC where both students spoke to an audience (including their old art teachers) about Gold Arts Award and The Big Draw.