Blog: How schools are continuing to work with arts partners safely
23 November 2020
By John Quinn, Artist in Residence
For the last three years most of my work has been artist residencies in schools so when the Covid crisis began and all schools closed, I realised all my work and any potential work in the future, had vanished overnight. After the initial panic I did what all creative types are meant to do and I adapted to the changing landscape. I ran a film project on Zoom and found it offered a way to connect to young people that was both fun, engaging and surprisingly moving. Then, towards the end of the summer I contacted the schools from a project that was supposed to start just before lockdown, to see if they wanted to relaunch the project on Zoom. To my surprise they said: 'Actually we'd like you to come into school'. I'd been so busy adjusting to the new normal, I hadn't thought what I'd do if a school wanted an artist to actually come into school. I quickly looked up all the regulations to make an environment Covid secure and read several pages of risk assessment, then started planning what I would do.
The #Inspired by project is funded and managed by the Newcastle Cultural Education Partnership. I was supposed to be working with children from three schools, and go out on cultural visits. Then make artwork inspired by what interested us. Obviously, the schools couldn't work together, and we couldn't go and visit galleries or museums. Instead I started working with a small group of Y3 and 4 children in each school and we 'visited' the collections at the Laing on Art Uk.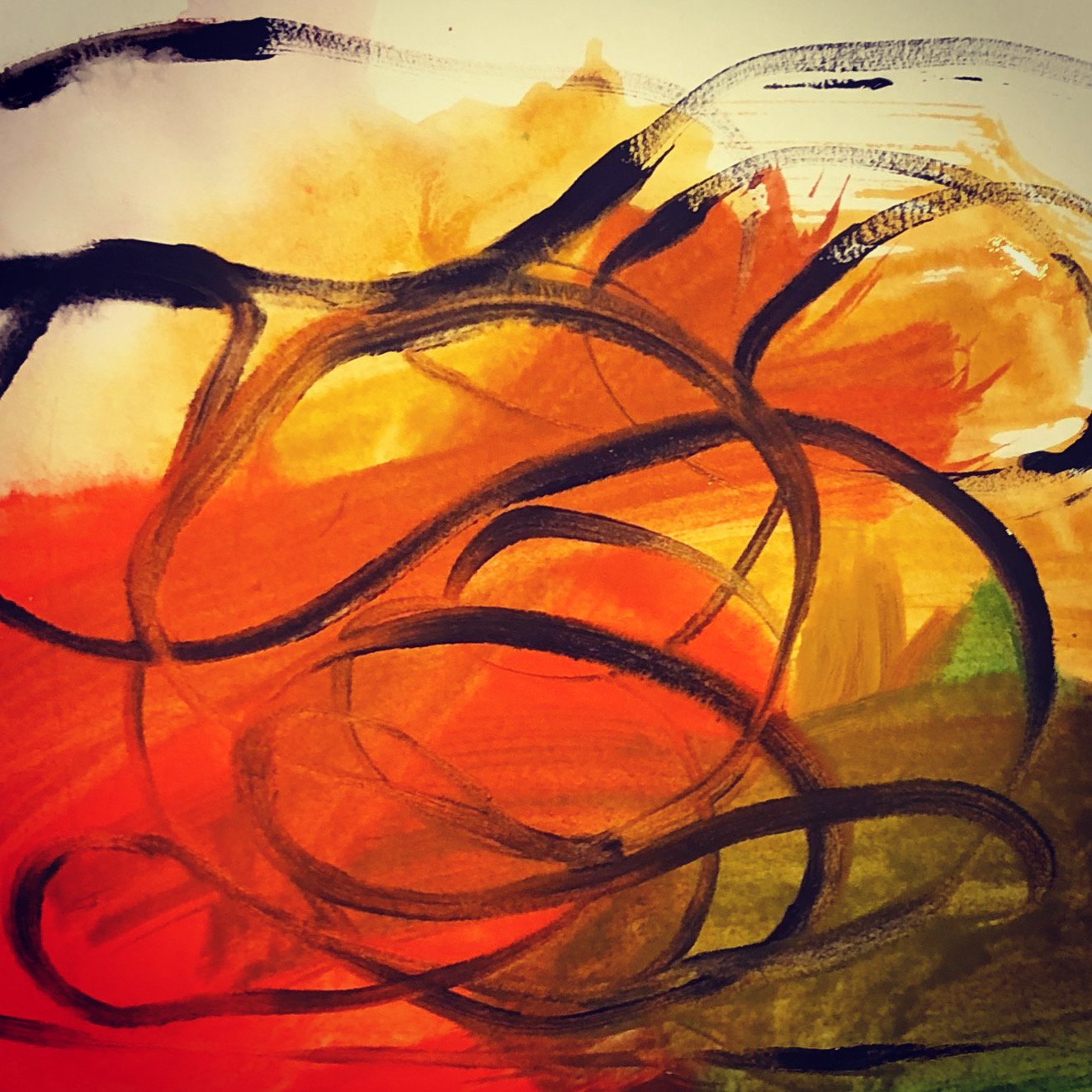 Picture: a painting by a Y4 boy called Taylor from Milecastle Primary School

I was a little apprehensive for my first session. Luckily the schools were more used to the Covid conditions than I was and made me feel safe and 'normal' as soon as I walked in. I found the faceshield a bit odd at first, (it made me realise how often I touch my face) but I soon slipped into the role of being an artist in school and forgot about how odd it all was. The children in a bubble were able to pass paper and things amongst themselves and could share resources. This had been a major concern for me, initially, so I was pleased we could look at each other's work and work collectively on our artwork.
The work I'm doing is all about giving the children the opportunity to be creative and play with drawing and painting. We paint to music and doodle pictures of nothing in particular. Then we look round the virtual gallery and talk about what we like and don't like. The more the children play with colour and pattern and composition, the more they have to say about the pictures they're looking at. It was interesting how one group wanted to talk about the pictures they didn't like and how that made them feel.
I start by getting them to say what catches their eye. What do you notice? Some children naturally look for narrative. A picture of a woman reading a book caught one girl's eye.
"I like this cos it's a mermaid reading a book."
"Oh really, what do you think the books about?"
"Magic."
One of the boys joined in. "It's so she can get a trident and control the sea."
One group decided they liked a picture with palm trees in it, so they all set about painting pictures of trees. All kinds of trees. Then we looked for more paintings and pictures of trees and talked about leaves and seasons and how we can tell it's Autumn and not Spring. This allowed everyone to draw and paint at their own pace. When we drew pictures of what we love and hate, Covid restrictions came out as a thing we hate and specifically not being able to go out and see our loved ones. The last thing we did before half term was quick, expressive paintings, just using black, to different types of music – fast, slow, angry, sad, excited.
The next step is going to be sharing the pictures the groups have made with each other and getting one group to make a creative response to the work of the other groups. They'll also share what they think of the pictures and work towards creating their own gallery. This will give them the chance to talk about what they like, make pictures and create sculptures, as a creative response to what interests them.
John is an artist working in schools, find out more about his work