Blog: Arts Award Discover at Home
01 February 2021
Blog: Arts Award Discover at Home
By Tracy Linsley, Tees Valley Museums
Tees Valley Museums developed an Arts Award Discover at Home digital resource in May 2020. This consisted of adjusting a current booklet so that it was suitable for families, developing an accompanying crib sheet, resources to link to their collection and instruction videos, which were made accessible through their website.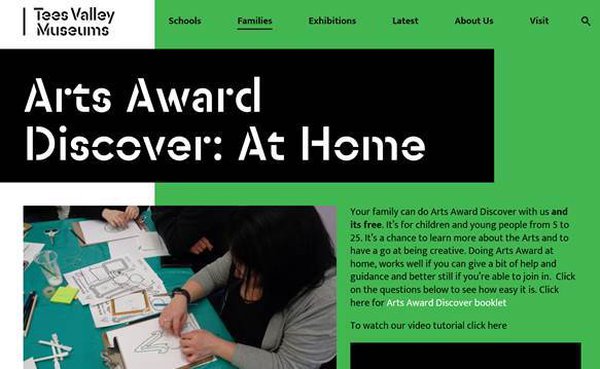 This was shared with local schools - 25 awards have been achieved so far.

They received some great feedback from families about the resource:
"She really enjoys being creative and it has been great to see her skills and patience develop while we have been at home for an extended period."
"She did enjoy doing it and it was a nice thing to do in lockdown as we had to look for things in the home that aren't labelled ordinarily as art so that made her think a bit more deeply"
"She has enjoyed doing the award and would be interested in doing the next level"
We started to plan how we'd sustain working with families to do Arts Award at home after schools returned.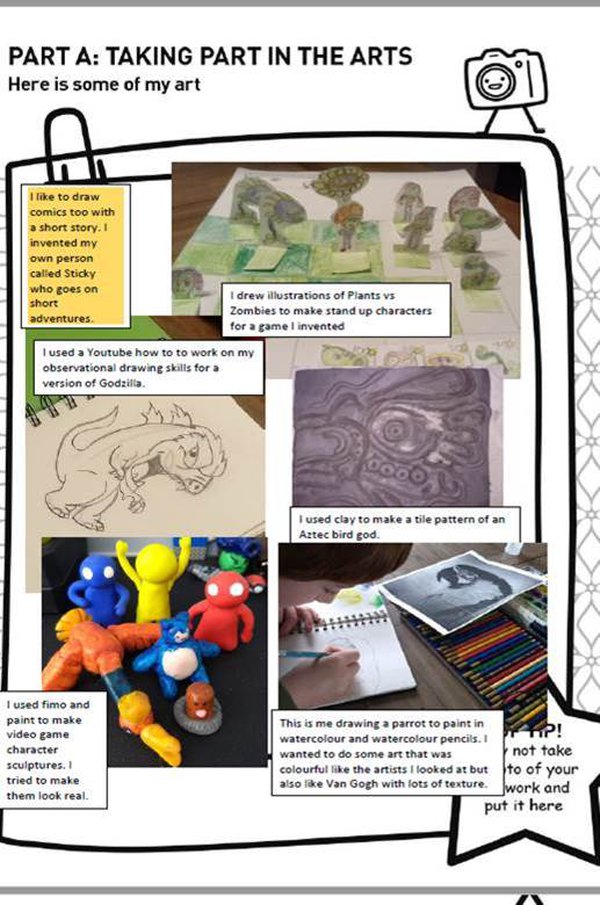 We introduced a pilot - Arts Award homework project - with two local schools, where the Arts Award booklets were sent out as homework alongside class work.

Our Arts Award homework project has not only helped pupils to reflect on their emotions, but to see the value of time spent with family and friends and to understand the role that creative hobbies and interests can play in self-care.
The project has been a unique way to encourage families to support their children to gain an Arts Award Discover and support positive relationships at home through creative home learning.
Using our existing successful Arts Award at Home online resource for families, this homework project has encouraged pupils to think about how they express themselves through the cultural and creative things they enjoy and/or take part in. It has helped them recognise the wealth of art forms they encounter in their everyday lives and supported them to see themselves as creative whether they are appreciating music, learning to paint or are already a talented dancer or poet.
We undertook online sessions with teachers from both schools and demonstrated links to our section on Family Arts Award on our website that could help parents to support and guide their children with the homework project.
We also provided a teacher and parents guide as well as a completed example booklet to show how Arts Award could be completed alongside PSHE and the recovery curriculum. We received 104 Arts Award Discover booklets back from the two schools.
We are currently evaluating the homework project but due to the recent lockdown it is difficult to get teacher, parent and pupils thoughts at this time. On reflection I think that a pre-recorded video introduction that can be either played in class when schools are back or posted on homework apps for parents and children to watch together will benefit families. It will link the museum and Arts Award as well as put a voice and face to the project.