Blog: A day to imagine and implement change for the wellbeing of young people
16 December 2019
Imagine If 2019: A day to imagine and implement change for the wellbeing of young people.
By Megan Savage, This is Creative Enterprise (TICE)
For the first time last year, I was invited to the Centre for Life to document Imagine If… 2018. I felt a multitude of emotions as I left the venue: stunned, impressed and full of questions. This year was no different.
For those who are unaware, Imagine If… is Culture Bridge North East's (CBNE) annual conference. Representatives from educational and cultural sectors gather to discuss, debate and explore a specific theme through a full day of keynotes, workshops and panels. As for the theme for 2019, it was a rather interesting one.
"Imagine if creative arts and cultural experiences support children's mental health from birth to adulthood?"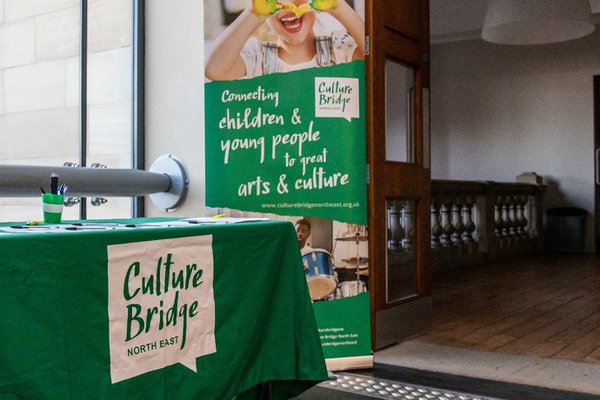 There has been stigma regarding mental health for many years and it is only until recently that this has been at the forefront of conversations on a worldwide scale. As a huge advocate for mental health awareness, I was thrilled to hear that CBNE was tackling this subject at Imagine If… 2019. After seeing the line-up of special guests, I was even more excited for the day ahead.
Attendees including a mixture of delegates from the education and culture sectors, arrived at the Great North Museum in the morning. Tea, coffee and biscuits circulated the room, which unsurprisingly brought smiles to faces before the conference even started! Catherine Hearne, host of Imagine If… 2019 and Advisory Board Chair at Culture Bridge North East, gave a warm welcome and introduced the day ahead before sending them on their way to the first half of morning workshops.
The workshops commence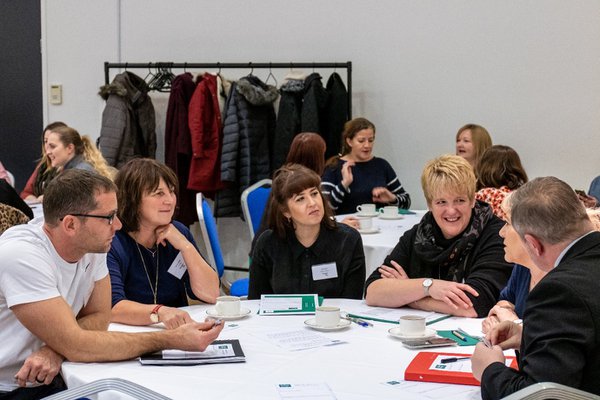 One of the first workshops of the day was led by Catherine Heinemeyer of York St John University, who specialises in socially engaged theatre and storytelling practice. Catherine's workshop surrounded the importance of creating storytelling spaces with young people, focusing on how it can provide an alternative dialogue to discuss and open up about mental health.
Meanwhile, Lizzie Nixon (Manager of Sunderland Music Hub), Angela Wilson (Lead Counsellor for Washington Mind's Young People's Project: Music for the Mind) and Ashleigh Lowes (music practitioner), discussed the vital role that music has on wellbeing. A particular highlight was seeing the group perform rhythmic patterns on drum pads as an example of practical activities that can stimulate the mind. Although it is fair to say that the sounds of laughter had drowned out the drumming pretty quickly…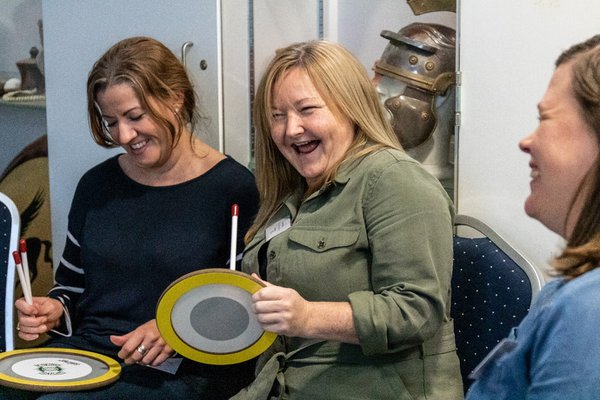 Mortal Fools also made an impressive return after last year's conference, this time to chat about their recent collaboration with Children North East on their theatre production, Melva. This workshop explored how collaborative theatre productions, such as Melva can investigate and support anxiety in children. Kiz Crosbie, Artistic Director and CEO of Mortal Fools, shared how the production came to life and the barriers they faced in producing something with the aim of appealing to a young target audience.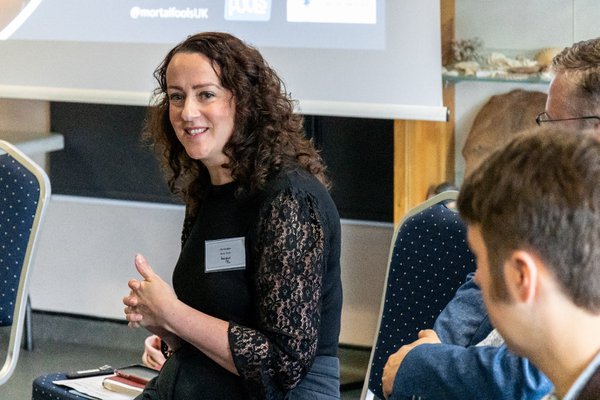 Melva began as a small, intimate Christmas show in Prudhoe and since then, 1500 children have seen the production. The impact has been astronomical and has sparked open conversation between young people and their parents about their mental health.
"It's about using this creative piece of work as a stimulus for those conversations because we all need to be having those conversations more than we do. We all need to recognise that what we have dealt with is a part of being human. Hopefully, we can prevent children and young people from it escalating into something that is a mental health condition. This is all about prevention and early intervention."
The team at Mortal Fools showcased examples of activities that are carried out in the production, as well as extracts from the show performed by actors Katie and Stan. It was clear that Melva was an example of how pushing boundaries and self-expression through theatre can create an open, welcoming environment for young people.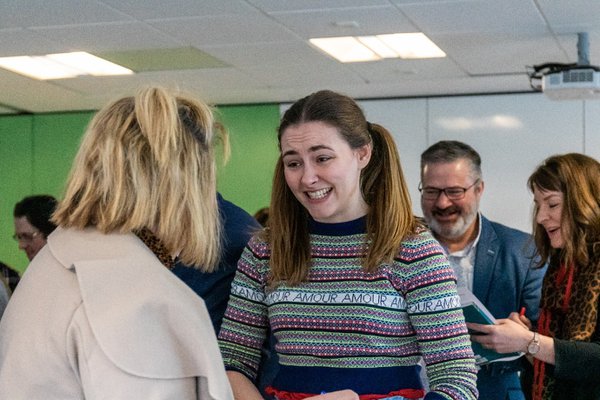 What do young people have to say about mental health?
The audience gathered once again to hear from the first keynote speaker of the morning Dr Peter Mullholland, Senior Education Psychologist at Durham County Council. He gave insight on overarching themes and reflections on children's mental health and suggestions on how we could support it moving forward.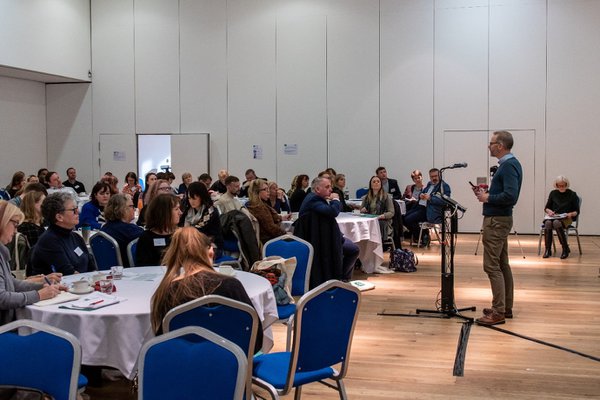 Peter talked about his involvement as the Chairman at Schools North East Healthy MindEd commission and what they have discovered by talking to children across the North East region. Through this initiative, they hope to develop and implement a framework which allows young people to understand and reflect on their mental health. Likewise, they hope to establish a tool that schools and teachers can use effectively.
However, the reality, as Peter states, is that these young people do not talk about it. For some, they don't even know how to define it in the first place. The Healthy MindEd Commission began to figure out how to tackle this and worked with approximately 250 young people and 40 staff across the North East to find out more. The response was fascinating, as students expressed their thoughts on the importance of relationships, making positive contributions and the pressure to meet expectations, to name a few. Ultimately, it shows they have a voice, and these conversations are hugely significant in creating change.
From young carer to social entrepreneur
Next up was Angela Awuah, Founder and Director of Mental Health the Arts - an early intervention creative arts academy for young people between the ages 13-25 with direct or indirect experience of mental health challenges. Personally, hearing Angela's story was one of my highlights of Imagine If… 2019.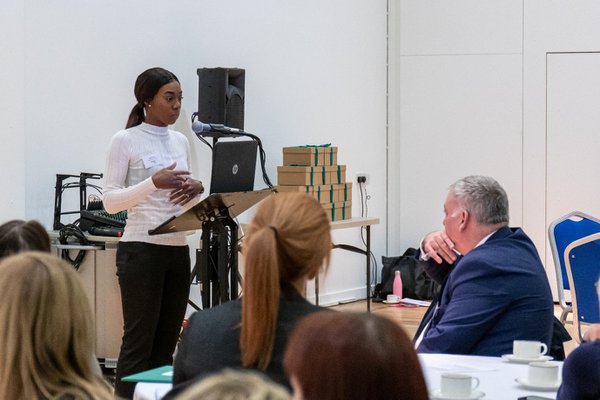 As a young carer, Angela faced many challenges in her personal life which had an impact on her mental health. After years of struggle, she found that dancing was her tool to find peace and happiness.
"I used dance as a way to love life again."
By combining her love for dance and her advocacy for mental health education, she developed Mental Health the Arts as a way for young people to express themselves. Through providing talks, workshops and arts programmes, Angela is giving young people the access to tools that she didn't have. I'm sure I am one of the many participants who found Angela's words emotional, thought-provoking and inspiring.
I look forward to seeing how this organisation evolves over the coming years.
How does poverty impact on children's mental health?
Finally, Luke Bramhall, School Research and Delivery Lead at Children North East, took to the floor and discussed how poverty impacts on children's mental health. He began by answering the questions that were on many of our minds.
What do we mean by child poverty?
What are the challenges around poverty?
What causes poverty?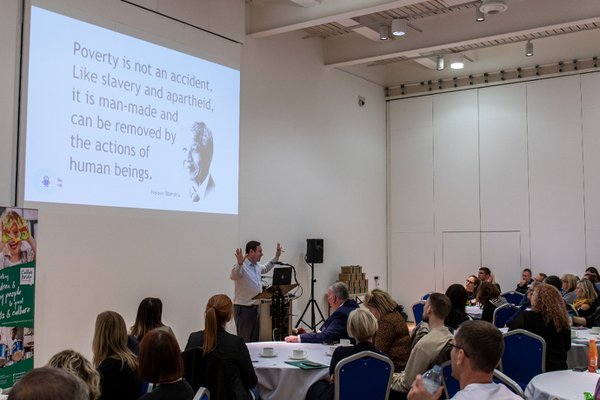 Lucky for us, Luke broke it all down, and suddenly it all began to piece together. Ultimately, poverty is not inevitable and there are ways that we can 'poverty proof'. This is one of the many ways in which we can enable children to have happy, healthy lives and thus prevent mental health issues.
How about a few more workshops?
After a delicious lunch break, the workshops resumed and participants attended their workshops of choice – one being the return of Luke Bramhall who expanded further on 'poverty-proofing' and tackling inequality in schools and cultural organisations. Meanwhile, BalletLORENT and TIN Arts shared how dance can have a powerful impact on children and young people. This once again showcased the powerful tool of the arts and creative industries.
It was also time for schools to have their say, as West Jesmond and Hotspur Primary School shared how they used the arts to support children's emotional wellbeing as part of the Thrive Programme, to celebrate and express diversity, and the importance of effective school leadership to integrate this into the daily life of the school.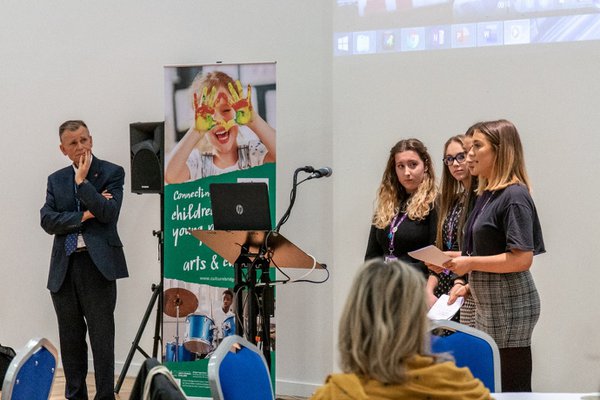 Whickham High School and Gateshead Council shared how collaboration between an artist in residence and a mental health professional is helping young people manage stress and their own mental health. It was particularly exciting to see students representing all schools, sharing their thoughts on the subject matter.
No more normal now
Next up, Catherine Heinemeyer returned to discuss the idea of 'making space for making sense'. She challenged the notion of mental health as an individual medical issue and more as a reaction to societal/cultural contexts. By showing the cultural differences between 1998 and 2019, it is clear that this point made absolute sense.
So, Catherine proposed a re-definition of mental health:
Good mental health is maintaining a sense of direction, connection and active hope in a world that often seems (is) dark.
The question is how can we make our world a brighter place to live?
From imagining to action…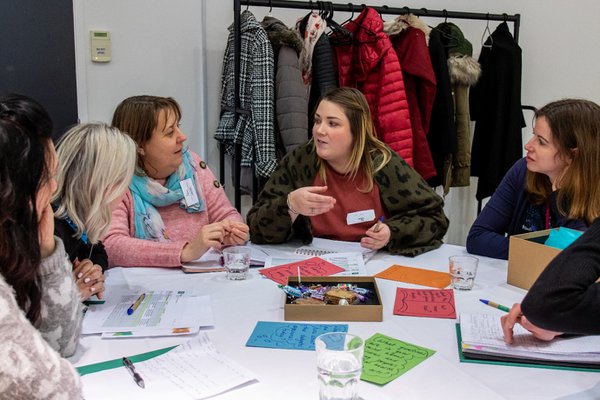 After some fascinating insight from Catherine, it was time for the audience to reflect on all of the information they had absorbed throughout the day. As you could imagine, there was a lot to cover, so there was not a minute wasted. They began to share their thoughts and considered any questions that could be discussed further. The final panel, including Angela Awuah, Luke Bramhall, Peter Mulholland, Catherine Heinemeyer and Catherine Hearne was alive with questions and debate. It was great to see so much passion in one room.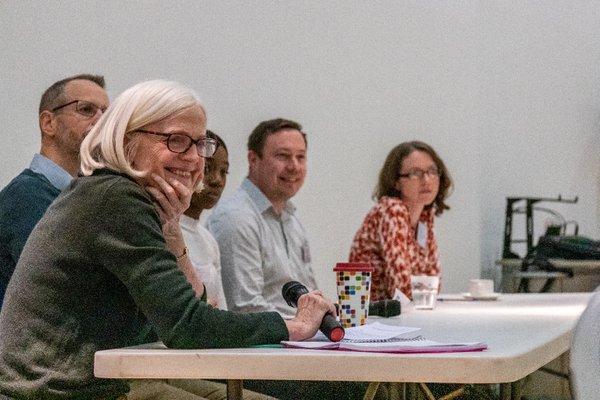 The conversation hadn't ended there either. Words of enthusiasm flooded in on social media post-conference:
"Brilliant day yesterday at #ImagineIf2019 meeting inspiring teachers & arts educators, & presenting on how schools can make spaces for story exchange. Thanks @mh_thearts @ChildrenNE and other great 'provocators' & @GNM_Hancock @culturebridgene @HearneCM for convening. @ysjtheatre"
"Thank you to the @culturebridge and @GNM_Hancock teams for their hospitality and great sessions at #ImagineIf2019 - inspired by some brilliant stories, projects and storytelling."
"Absolutely brilliant conference today @culturebridgene fantastic panel, workshops and key note speakers, focusing on the arts and mental health of children and young people #inspiration #imagineif2019 @ChildrenNE @mh_thearts"
"Loving the energy at the #ImagineIf2019 conference. A fantastic coming together of professionals engaged in improving children's artistic and health outcomes. Good to be aboard."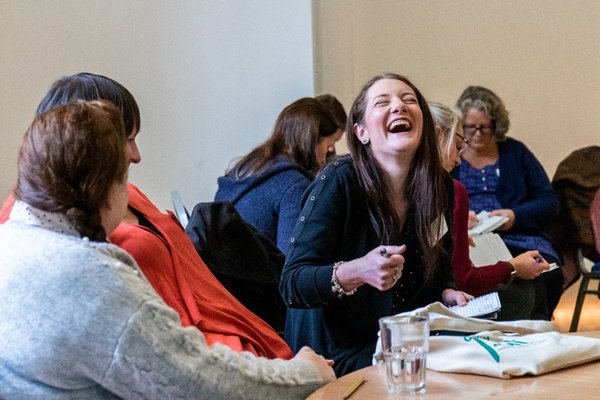 As for myself, I was exhausted. Yes, partly because I was running around taking photos! But mostly because I had learned and felt inspired by so much in such a short space of time. I was introduced to new ideas, and I was more connected to others who shared similar values in my field. Imagine If… 2019 has left me feeling hopeful for the mental health and wellbeing of young people. Perhaps we won't have to imagine any longer and we can have a promising future, free of stigmatisation and encouraging of awareness and education in the North East. What I know for sure is that this conference was the first step.
I can't wait to discover where it leads us next.