Arts Award Case Study: Jack Drum Arts
23 November 2022
Drawing Inspiration
My name's James Lane. I'm Youth Music Worker at Jack Drum Arts - a sustainable social enterprise providing cultural opportunities for communities in County Durham and the wider region, through a range of workshops, courses, theatre, music-making and outdoor events.
We've delivered Arts Award in a range of forms at Jack Drum Arts over the past six years, and at different levels from Discover through to Gold. We work across music and film, and more recently, sketching and digital art within Bronze and Silver. The age range I tend to work with most is between 15 and 19.
The impact of Arts Award on young people in my experience, has been at its prime within one to one delivery. Arts Award provides a framework for professional practice, personal assessment and a retrospective portfolio of progress, alongside the development of a rapport between the Arts Award Adviser and the young people pursuing their award. Building that rapport is vital, and allows for means of reflection, evaluation and progression. It helps young people find confidence in themselves and their art form, seek advice and take these structures and apply them elsewhere in their skill set, whether passively or actively for their artistic development.
It's easy for me to speak of these, but obtaining these impacts isn't without challenge!
Writing isn't the only way to capture evidence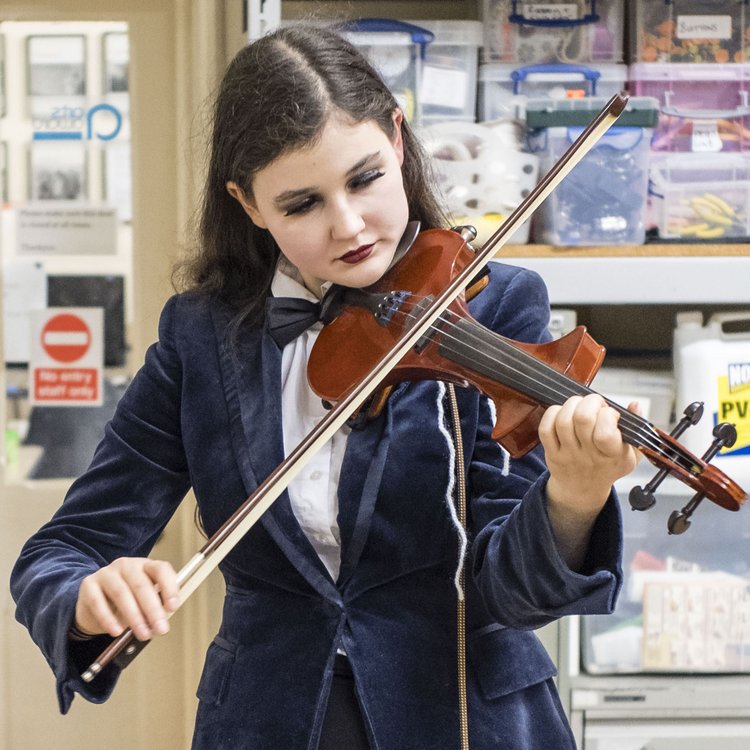 Arts Award can initially feel like it's alienated from the artistic process, and advisers can feel like 'sitting down and writing' is the only way of capturing evidence for the portfolios. This doesn't have to be the case! That realisation has allowed young people I've worked with to progress beyond what they would ever have wanted to engage with otherwise. In one particular instance, almost the entirety of a young person's submission was comprised of images, short form sentence descriptions and video. It was an incredibly strong submission, with real world implications for the young persons' artistic development. They went on to use the designs developed through their Arts Award process to create the logo for B.O.P. Fest- a green, family friendly music and arts festival created and produced by the Jack Drum Arts Youth Board.
We've also had a lot of success running Arts Award through our hosting of the BFI Academy. This is a nine week introduction to working in the film industry for young people between the ages of 16 and 19, who are passionate about moving image and connected art forms, such as composition and scoring.
Recording evidence of activity is admittedly one that can be a challenge in a group setting. There's a lot to track for each individual submission, and requesting each young person take complete responsibility for their own tracking of progress can sometimes result in missing evidence. We provide an Arts Award journal that prompts young people to reflect on each day across the project in a variety of ways - specifying skills learnt/developed, industry info, traits identified, plans they've made and other criteria that supports the Arts Award process. Providing an allotted time of 20 minutes or so to get some thoughts down, whether recorded in voice notes with question prompts, written, typed or videoed, makes the process a lot more manageable.
"It was helpful, inspiring because it requires you to look at other people's work who you might not have considered before, and also your own work in a different way. Also it was a good starting point for doing analysing artworks in college"
Quil, Arts Award Bronze
As an organisation, Arts Award provides a good focal point to work towards within time constrained projects. The process provides a way for us to have a visual, written and digital record of the progress our young people make. This is a valuable resource for reporting to a variety of funders, and also a resource for us to shape our session plans, and identify gaps in our delivery to provide a more rounded experience for our participants.
I would very much like to thank Claire and Pete Saaremets at Skimstone Arts for their frankly astounding and incredible commitment to Arts Award, helping other organisations and independents find a way to run Arts Award that works for them and their young people. I consider their approach to Arts Award exemplary, and their help and guidance was invaluable and fundamentally shaped my approach to Arts Award today.
Discover Arts Award
Arts Award inspires young people to grow their arts and leadership talents: it's creative, valuable and accessible.
Find out more at artsaward.org.uk