Tees Valley Twilight CPD: Words From the Wellspring
Book online
A FREE opportunity for teachers based in Redcar & Cleveland and Middlesbrough to explore their creative writing talents.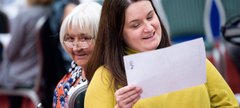 Old Fire Station, Middlesbrough Town Hall, Albert Road, Middlesbrough, TS1 2QJ
16:00 – 18:00

Words From the Wellspring
This session involves a series of fun, practical creative writing activities to increase the enjoyment of word play, stimulate the imagination and overcome barriers to written expression.
Taking Robert Frost's comments that a poem 'begins in delight and ends in wisdom' and 'I have never started a poem yet whose end I knew', the session will explore the different stages of the writing process from initial inspiration, the building of the word-hoard, rough drafting and revision, and see how the act of writing is itself an act of discovery to create something unexpected.
The session will be led by Bob Beagrie, a poet, playwright and senior lecturer in creative writing at Teesside University.