Tees Valley Teachers: Music for language and literacy
Book now!
Join Musinc for a free online workshop, exploring how music can be used to foster cross-curricular development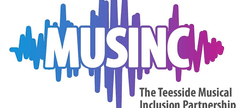 Online event
10:00 - 11:00

Music for language and literacy with MUSINC
This session is designed for Tees Valley Teachers and is aimed at supporting you to use music as a tool within any subject, for supporting your pupils language and literacy skills. Using music techniques, young people can feel empowered to express themselves through creating their own lyrics and verses to songs or beats, and this session will help you to facilitate this within the classroom setting, and within any topic or subject. The session is aimed at non-musical specialists, exploring techniques that can be applied across age-groups.
Musinc is a Musical Inclusion Programme aimed at providing access to high quality music making opportunities to young people in challenging circumstances. It is funded by The National Foundation for Youth Music, hosted by Middlesbrough Council and delivered across the Tees Valley. They provide open access music groups, targeted intervention projects, 1:1 tuition, progression and performance opportunities and workforce development for music leaders. Equality, Diversity and Inclusion sit at the heart of their programme.