Tees Valley INSET Day: Create and Dance, exploring Romeo and Juliet with The Royal Opera House
Book online
A FREE opportunity for teachers in the Tees Valley to explore Romeo and Juliet with The Royal Opera House.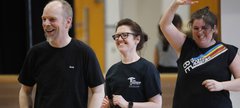 TunedIn!, Majuba Road, Redcar, TS10 5BJ
09:00 – 16:00

Create and Dance with The Royal Opera House
The Royal Opera House Create and Dance training programme has been designed with and for teachers, maintaining strong curriculum links, to develop children's understanding of dance; stimulating their imagination and creativity. Teachers do not need previous dance knowledge to take part. We are delighted to be able to fully fund the delivery of this national training in Redcar so it is free to Tees Valley based schools.
This INSET day, delivered by dance practitioners from The Royal Opera House, has been designed with teachers, maintaining strong curriculum links to develop children's understanding of dance; unlocking their imagination and creativity. It will explore the 'Building Blocks' of dance to inspire cross-curricular learning - i.e. actions, body, space, dynamics, and relationships. The warm-up session provides a clear language and structure for creating movement, which develops through-out the day,
Teachers will engage with three different creative explorations to generate movement, using themes from Royal Ballet repertoire - e.g. Alice's Adventures in Wonderland, Romeo and Juliet or The Nutcracker. Creative Exploration 1 (generating material through rep exploration). Creative Exploration 2 (generating material through structured creative tasks). Creative Exploration 3 (generating material through improvisation exploration).

This practical training provides teachers with the skills and confidence to empower their students to create dance pieces of their own. The activity is interspersed with moments of discussion, lesson planning and an online tour of the learning platform. Teachers will build confidence in the planning and delivery of creative dance workshops with a large group of students and gain ideas for increasing the impact of their work in and through the arts, ranging from enjoyment and enrichment to developing core learning and teaching. The training also develops the skills needed to deliver creative dance as a way of exploring different curriculum subjects – particularly literacy.

Additional support for schools: The Royal Opera House can provide further follow-up support after the training in the form of email or phone call support at any point. Teachers will also have access to all the related schemes of work and other wrap around activity that will be introduced throughout the year.