Tees Valley Teacher CPD: The Northern School of Art Photography & Digital Development course
Book online
A FREE CPD opportunity for teachers in the Redcar & Cleveland and Middlesbrough area to explore digital photography.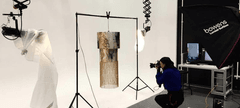 Tuesday 19 May - Tuesday 23 June
PART 1 for 3 weeks: Introduction to photography – The Northern School of Art Middlesbrough Campus, Green Lane, Middlesbrough, TS5 7RJ

PART 2 for 3 weeks: Digital development – The Northern School of Art Hartlepool Campus, 1 Church Street, Hartlepool, TS24 7DR

17:00 - 20:00
Photography and Digital Development course
This exciting evening short course, which will run from 5pm till 8pm every Tuesday for six weeks commencing 19th May 2020, will be delivered by Andy Dunning, a professional commercial photographer. The first part of the course (lasting 3 weeks), delegates will be introduced to digital photography, exploring functions of the DSLR and other photographic kit. The course will develop a range of photographic skills, equipping educators with the necessary skills and knowledge to teach photography to their pupils. The course will be held at The Northern School of Art Middlesbrough campus using the photography studios and nearby area.

The second part (lasting 3 weeks) will develop on from the skills in part 1 and will look at post-production editing using Photoshop design software to digitally enhance and manipulate images. Delegates will be upskilling in their digital literacy using specialist software commonly used in a taught environment. This second part will take place at The Northern School of Art Hartlepool site using the latest mac equipment and adobe software. You will have the opportunity to tour the state of the art photography studios and learn about progression opportunities in the industry.
All materials, hot and cold drinks provided, and The Northern School of Art will also provide information on their free, bookable workshop timetable that you and/or your students can attend to support portfolio development throughout the academic year.