An online CPD for NE cultural sector, exploring the issues schools are facing, recovery curriculum and cultural capital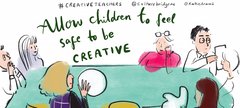 Session 1 - The new normal…working with schools
Join us as we relaunch our exciting programme of opportunities for the NE cultural sector, with this first CPD session of the series.
Session 1 - The new normal…working with schools

In light of COVID-19 we are keen to actively listen to our teaching community and to ensure that we continue to design and develop support that is relevant as well as innovative and creative.
This session is an opportunity for the cultural sector in the North East to explore what is happening currently in schools and look at the recovery curriculum and cultural capital.