Create and Dance exploring Alice in Wonderland with The Royal Opera House:
Book your place
For teachers that want to explore Alice in Wonderland with The Royal Opera House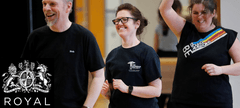 Cragside Primary School, Newcastle upon Tyne, NE7 7EL
09:00 – 16:00
Create and Dance with The Royal Opera House
The Royal Opera House Create and Dance training programme has been designed with and for teachers, maintaining strong curriculum links, to develop children's understanding of dance; stimulating their imagination and creativity. Teachers do not need previous dance knowledge to take part.
Alice's Adventures in Wonderland - suitable for KS1,2, AND 3.
Alice's Adventures in Wonderland provides the stimulus for a Create and Dance scheme of work that can support cross-curricular learning, particularly literacy, for Key Stage 1, 2 and 3 teachers. The schemes of work include a series of films featuring Karim Zeroual from CBBC, who journeys down the rabbit hole with Principal Dancer of The Royal Ballet, Lauren Cuthbertson, to understand the basics of creating dance.
On her journey, Alice encounters a cast of extraordinary and instantly recognisable characters, from the highly strung Queen of Hearts to a playing card corps de ballet, a sinuous caterpillar and a tap-dancing Mad Hatter. But the ballet does not avoid the darker undercurrents of Lewis Carroll's story: a nightmarish kitchen, an eerily disembodied Cheshire Cat and the unhinged tea party are all here in vivid detail. The result shows The Royal Ballet at its best, bringing together world-class dance with enchanting family entertainment.
This practical training provides teachers with the skills and confidence to empower their students to create dance pieces of their own. The activity is interspersed with moments of discussion, lesson planning and an online tour of the learning platform. Teachers will build confidence in the planning and delivery of creative dance workshops with a large group of students and gain ideas for increasing the impact of their work in and through the arts, ranging from enjoyment and enrichment to developing core learning and teaching. The training also develops the skills needed to deliver creative dance as a way of exploring different curriculum subjects – particularly literacy.
Additional support for schools: The Royal Opera House can provide further follow-up support after the training in the form of email or phone call support at any point. Teachers will also have access to all the related schemes of work and other wrap around activity that will be introduced throughout the year.