The Primary Teaching Assistant project is designed to develop teaching assistants' subject knowledge in maths.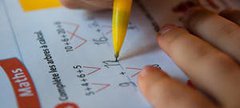 Broadwood Primary School, Broadwood Road, NE15 7TB
10:00 - 16:00
Primary Teachers Subject Knowledge Enhancement
There is more to subject knowledge than being able to do the maths yourself. The Primary Teaching Assistant SKE project is designed to develop teaching assistants' subject knowledge in maths so they can support children's learning in the classroom and in small intervention groups.
Work Groups will explore maths in depth, making connections between topics and concepts. Participants will also work collaboratively, led by a local leader of maths education (LLME) to develop deep and secure subject knowledge and appropriate pedagogy so they are well-equipped to support pupils.
Who is this for?
Primary school teachers who are supporting children with their learning of mathematics. We can only accept one member of staff per school, please be mindful of this when applying for a place on this programme.
Work Group activity
3 days of workshops with other practitioners on the programme
Independent study and setting-based work including gap tasks and evaluation
Online discussion as part of a professional community
Support and mentoring from Work Group Lead
Intended Outcomes
As a result of this project, participants' skills and confidence in the maths classroom will be increased. TAs will develop knowledge of the pedagogy of maths teaching and understand how children think and where their misconceptions stem from. A greater awareness of the three aims of the National Curriculum (fluency, reasoning and problem solving) will be developed, and teaching assistants will understand the role that certain representations, models and manipulatives can play in the development of pupils' understanding of number and calculation, particularly place value and proficiency. Those involved will get better at working within classes and with small groups of pupils; they will gain knowledge of practical ways to apply the skills and understanding developed during the programme.
Expectations of participants and their schools
Participants are expected to be working in a classroom environment and/or involved with individual or small group support and intervention. All participants are expected to attend all the sessions and complete gap tasks in their schools between the sessions. They will also be asked to keep a learning log for their own use and contribute to the national evaluation process, probably through a short online survey after the Work Group has finished
This Work Group is free of charge. However, Great North Maths Hub will charge £40 for non-attendance or cancellation less than 7 days prior to each session.
When booking you will be asked to give your NCETM Username. We ask for this as we will use the NCETM website to coordinate your programme evaluations, in order to report to the DfE. If you do not already have an NCETM username, please create one here https://www.ncetm.org.uk/join
Data Privacy
As part of our role in leading the Great North Maths Hub, we collect and hold a certain amount of data about individuals involved in our work. The data includes name, role (with respect to hub work), school, email address, NCETM username and (in some cases) telephone number. The agreement between us and the Department of Education requires us to monitor and evaluate our work as a Maths Hub, and this is the legal basis for the data that we hold, on, for example, participation in the Work Groups that we coordinate. Such data is reported on a regular basis to the NCETM.