An online information session for existing Artsmark Partners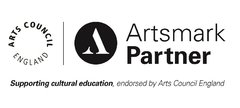 Online Session
10:00 - 12:00
Artsmark Partners Session
The Artsmark Partnership Programme is an Arts Council England endorsed network of organisations devoted to bringing great arts and cultural opportunities to children and young people. Artsmark Partners support Artsmark registered schools and other educational establishments on their journey to embed arts and culture across the curriculum.
This session is for existing Artsmark Partners and will explore:
A brief refresh of the Artsmark programme and how it currently stands
Supporting you to map your current offer across the Artsmark criteria (and your offer in general)
We will also be joined by teachers, who will be talking about their Artsmark journey, how they've worked with cultural organisations and creative practitioners, and give us a brief insight into the 'state of play' in schools.

To secure a ticket or for more information, please contact us via the 'book your place' icon.