CreatED dance - session 5: A conversation with Rob Anderson
Book your place
A conversation with freelance dancer and choreographer Rob Anderson that will cover movement, posture and dance.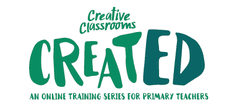 CreatED dance - session 5: A conversation with Rob
Please note that this will be a FREE online event.
Time: 10:30 – 12:00
Join us for CreatED, our NE primary teacher training programme!
About this Event

This session will be an 'in conversation' with Rob Anderson, a professional freelance dancer and choreographer based in Newcastle Upon Tyne. The session aims to highlight the significance of movement and dance. Why it is so important to our health and wellbeing, integrating movement into our day to day lives and how movement and dance can be powerful educational tools.
The discussion will explore...
How and why humans move in regards to our environment and evolution
An anatomy crash course
The negative effects of a modern lifestyle on posture and movement
Movement as medicine, introducing positive movement habits and utilising dance as a creative tool
The session will be a combination of presentation, questions and answers.