Artsmark Partners online session
Free
If you would like to become an Artsmark Partner then please attend this session.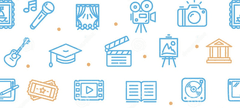 Online event
10:00 – 12:00
Artsmark Partnership Programme briefing
The Artsmark Partnership Programme is an Arts Council England endorsed network of organisations who are devoted to bringing great arts and cultural opportunities to children and young people. They support Artsmark registered schools and other educational establishments on their journey to embed arts and culture across the curriculum.
There are now 91 Artsmark Partner organisations in the North East, all equipped to support the 277 Artsmark schools in the region on achieving their goals to deliver quality arts and cultural opportunities for all their pupils.
Become an Artsmark Partner by attending this free online session; learn more about the process that Artsmark schools are working through, and the criteria they are aiming to meet, hear examples from current Artsmark Partners, then focus on how you can tailor your own schools offer to match.
Places are free but limited.