Arts Award at Home
What is Discover at Home Arts Award?
Arts Award is a set of awards for children and young people aged 25 and under that gets them involved in and excited about arts and culture and celebrates their creative achievements. This unique qualification is managed by Trinity College London in association with Arts Council England and is normally available through schools and Arts Award centres, which offer arts activities.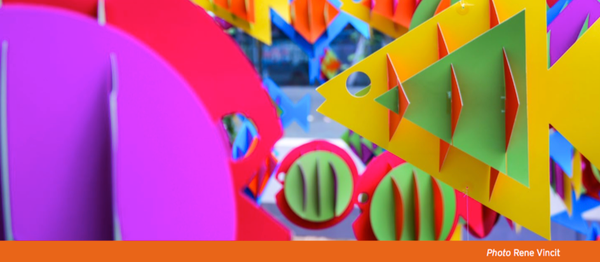 Discover at Home is a special edition of Arts Award which celebrates children's creative achievements and is the first level of Arts Award. It enables children to be rewarded for the creative activities they enjoy and supports them to connect with their local museums, theatres and arts activities they like, online or at home, and explore new ones, until it's possible to visit them again.

Discover at Home is a fantastic way to keep children engaged in the arts and creativity while they are at home. It's a great option for parents & carers who may not be arts specialists themselves or are looking for something different to keep children engaged and entertained. They can even gain a certificate!
Discover at Home Arts Award in the North East
Culture Bridge North East is working in partnership with the following organisations to support the remote delivery of Discover level Arts Awards in the North East. Each cultural organisation has developed its own specific resources.
Click on the name of the organisations below to explore each offer or you can email them directly for further information:
---
BALTIC Centre for Contemporary Art

You can still visit BALTIC virtually and take part in Discover Arts Award at Home. You'll learn more about their building, exhibitions and artists. Plus, there's the chance to think about your own creative responses.
Age: 11 and under
---
Berwick Visual Arts and The Maltings
Berwick Visual Arts and The Maltings are delivering Discover at Home Arts Award! Children can use any art form to complete the award but why not join our free online Big Green Draw workshop with illustrator Katie Chappell on Saturday 24 October and use your drawings for the Taking Part section! You can type in the logbook which can be downloaded from the website, insert drawings or photos of your children's arts activity and email us your completed logbook. Alternatively, you can also print out the logbook and fill it in by hand and stick in photos and drawings if you prefer. All logbooks (digital or hardcopies) must be received by Monday 2 November 2020 at the latest. The first 100 children, attending a Northumberland school, that send in their completed logbooks will receive an Arts Award Discover certificate.
Genre: any art form
Age: 5-11 years
email for further information
---
Durham University Library and Collection

Discover at home Durham University's collections, from Durham Castle's grand building, to the Oriental Museum's treasures, to the colourful art collection, to the writings of the archives and the secrets from the Museum of Archaeology.
You will discover objects, paintings and artefacts from their collections, create art work like artist and Durham University teacher Dr Finola Finn and share your work in the online community gallery.
Genre: sculpture, art, museums and history
Age: 5+ (Adult supervision required)
email for further information

---
Middlesbrough Institute of Modern Art (MIMA)

MIMA, part of Teesside University, is inviting Tees Valley children to take part in Discover at Home Arts Award.
It's a six week digital adventure that brings arts and culture to you at home, inspired by works from the Middlesbrough collection, an eclectic mix of jewellery, ceramics, drawings and paintings.
MIMA has a longstanding history of delivering Arts Award and to date thousands of children have completed their award with MIMA.
Genre: modern and contemporary mixed media
Age: 11 and under
---
North Tyneside Libraries Service

The Reading Agency and Libraries present Silly Squad. As part of this year's reading challenge, North Tyneside Libraries is offering you the chance to complete Discover at Home Arts Award. You can use the activity sheets to discover the arts around you, get stuck into different arts activities and find out about artists like authors and illustrators by exploring books and illustrations then sharing what you find with friends or family.
Genre: books, illustration, drawing
Ages: 5-12 years
email for further information

---
Participants will take part in fun arts activities, find out about some of the artists Sunderland Culture works with, discover new things about their venues and share your journey with others.
During the award you will create your own dancing robot, be inspired by the future of Sunderland in their creative writing challenge, discover facts about Sunderland Museum and Winter Gardens and explore the collection, find out about brilliant artists and share your learning with others. At the end you will gain an Award and certificate!
For each section there will be a different challenge and log sheets to fill in. You can either download these and print them at home or copy it down on a piece of paper and make your own booklet! Each section has a video to help guide you through that section. You can also draw or record your answers, whatever works for you. teachers / parents / carers / guardians can support and scribe for young people.

Genre: museum and heritage, visual arts, creative writing and crafts
Age: 5-12 years. Resources can be adapted if needed.
email for further information
---
Tees Valley Museums has developed an online booklet that can be downloaded and completed digitally or printed out at home. On their site there are step by step written instructions and videos to show you what you need to do to complete your award.
The online resources link to their collection. These can be used for inspiration and to help complete supporting evidence. These include information on local artists, art forms in their collection, creative activity ideas and videos with creative writing tips by a children's author.
Genre: any art form, however, the accompanying resources link to the museum's collections including paintings, ceramics, textiles and creative writing.
Age: 5-25 years, supporting resources are appropriate for different ages in this category.
---
The Sill, Northumberland National Park

The landscapes of Northumberland provide endless inspiration for all art forms, from wildlife photography to landscape paintings to poetry inspired by the spectacular scenery. The Sill can provide information to participants to help them find ways of engaging with nature, and how to find inspiration from the natural world to get creative.
Genre: any art form, however, focus tends to be on visual arts - painting, sculpture, film, photography, collage, drawing, printing, with the addition of creative writing and poetry.
Age: 6-12 years
email for further information
---
Tyne & Wear Archives & Museums (TWAM)
Tyne & Wear Archives and Museums has developed lots of activities for you. Explore their online activities and use them as inspiration to complete your Discover Arts Award at Home. You will find links to step by step video demos, activities and blogs to inspire you.

Arts Award Discover at Home is a fantastic chance for you to get an award. All you need to do is create a record or portfolio of what you are exploring, making and creating. Be as creative as you want to be: draw pictures, write, use photos, print from the internet, cut up old magazines. You don't need to print anything off but we've created some ideas for you to use as inspiration.

Genre: Multiple art forms, including visual arts, crafts, design, museum and heritage, science and natural history.
Age: 11 and under
---
See our Directory
Other organisations, schools and settings that work with children and young people are also registered Arts Award Centres and may be able to support young people to achieve Arts Award qualifications remotely. See our Directory for a list of organisations in the North East.